21st Detective Conan film still in 8th place in its 9th weekend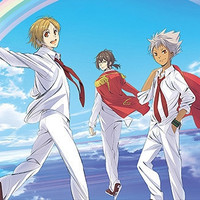 According to the latest weekend box office report from Japan for the weekend of June 10-11, KING OF PRISM -PRIDE the HERO-, the second film from the KING OF PRISM anime franchise, finished in seventh position in its first week in release, bringing in an estimated 82 million yen from the 47,000 ticket sales. The 70-minute film was released in 56 theaters in Japan, which was four times more than the first film initially had.
-PRIDE the HERO- again features the three members of male idol group Over The Rainbow who first appeared in Pretty Rhythm: Rainbow Live, the third Pretty Rhythm TV anime aired in Japan from 2013 to 2014. The 59-minute first film KING OF PRISM by Pretty Rhythm was released in January 2016 and reportedly earned about 30 million yen in its first two-week run. Thanks to strong word of mouth and various marketing efforts, it finally grossed impressive 800 million yen at the domestic box office.
初日舞台挨拶にお越しいただいた皆様、ありがとうございました!客席からプリズムの煌めきが溢れていましたまだ1日目。これからもキンプリをよろしくお願いします!そして、まだ間に合う!TOKYO MX「今からでも遅くない!キンプリのすべて教えますSP」を観てください! pic.twitter.com/MEZFatlMp8

— キンプリ公式♡全国胸キュン上映中 (@kinpri_PR) 2017年6月10日
---
Weekend box office in Japan (June 10-11, 2017)
1 (new). "Nijyuninenme no Kokuhaku - Watashi ga Satsujinhandesu"
2 (new). "Hirugao"
3 (1). "Beauty and the Beast"
4 (2). "Logan"
5 (3). "Hanaikusa"
6 (4). "Chotto Imakara Kaisha Yametekuru"
7 (new). "KING OF PRISM -PRIDE the HERO-"
8 (6). "Detective Conan: Crimson Love Letter"
9 (5). "Kaziku wa Tsuraiyo"
10 (7). "Peach Girl"
"KING OF PRISM -PRIDE the HERO-" full trailer
Poster visual
Source: Eiga.com, Mantan Web