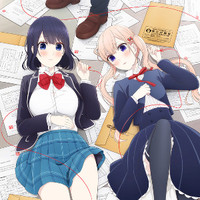 Il sito ufficiale della serie Love and Lies (Koi to Uso), tratta dal manga di Musawo, ha pubblicato un nuovo trailer che presenta la canzone "Kanashii Ureshii" del gruppo rock Frederic.
In un futuro prossimo, il governo deciderà con chi ogni cittadino dovrà passare il resto della sua vita, a partire dai 16 anni, promettendo la felicità su base genetica. Ma questo può essere fonte di speranza o di disperazione…
Il protagonista è Yukari, un normale liceale innamorato di Misaki.
Appena dichiara i propri sentimenti alla ragazza, Yukari riceve la comunicazione governativa con il nome della sua futura sposa: Ririna.
In una società in cui è illegale provare sentimenti verso altre persone, Yukari Nejima decide di sfidare la sorte e portare avanti in segreto due relazioni…
Il cast annunciato comprende:
Ryota Ohsaka nel ruolo di Yukari Nejima
Kana Hanazawa nel ruolo di Misaki Takasaki
Yui Makino nel ruolo di Ririna Sanada
Shinnosuke Tachibana nel ruolo di Yusuke Nisaka
L'anime debutterà in televisione il 3 luglio, ma sarà proiettato in anteprima al cinema TOHO di Shinjuku, a Tokyo, il 24 giugno. I doppiatori Kana Hanazawa e Ryota Ohsaka saranno presenti all'evento.
Fonte: Anime News Network.