Anime about distant descendants of "Irresponsible Captain Tylor" protagonists produced by Teekyu/AiMaiMi staff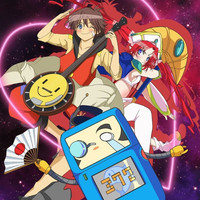 For anime fans of a certain age, "The Irresponsible Captain Tylor" was one of those anime titles that you either loved to death or hated with every fiber of your being. The 90's space comedy, which was ostensibly a parody of space opera fare, seemed to be one of those titles that was just part of the scenery of 90's anime fandom. Now it seems that Earth Star somehow thought it was a great idea to revive the franchise, but at the same time add its own unique spin.
The series of shorts titled "Musekinin Galaxy☆Tylor" (The Irresponsible Galaxy☆Tylor) will premiere on July 11th in Japan. The short list of cast and staff is below.
-Staff-
Director: Hiroshi Kimura
Character Designer: Natsuki Kitakata
Music: Kenji Katoh
Animation Production: Studio Seven
-Cast-
via moetron