TV anime second season is also in the works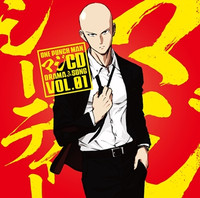 Bandai Visual today announced a plan to release a four-drama CD series "Maji CD Drama & Song" based on ONE and Yusuke Murata's superhero-themed action comedy manga One-Punch Man. The voice cast members from its TV anime adaptation aired in 2015 are confirmed to reprise their roles.
Each volume includes two newly-written episodes created/supervised by ONE and one episode based on a bonus manga in the tankobons. For example, the first drama CD has an episode based on "200 yen" from the 1st volume. In addition, anison super group JAM Project provides a newly-recorded character song for each volume, and the character to be featured in the first CD is the protagonist Saitama. Total running time of the three episode is about 40 minutes.
"One-Punch Man: Maji CD Drama & Song" release schedule:
Vol.1: September 27, 2017 (Featured character: Saitama)
Vol.2: December 20, 2017 (Featured character: Genos)
Vol.3: March 21, 2018 (Featured character: Speed-o'-Sound Sonic)
Vol.4: June 20, 2018 (Featured character: TBA)
Vol.1 Tracks:
1. Audio Drama "Saitama, Tekoire Suru (Shores Up)"
2. Audio Drama "Bonus Chapter: 200 yen"
3. Audio Drama "Parallel School Drama: Junior High School Student Saitama: Episode 1"
4. Cast Talk (10 minutes)
5. Saitama Image Song by JAM Project
6. Saitama Image Song (Instrumental)
Vol.1 CD jacket image drawn by the anime character designer Chikashi Kubota
Source: Bandai Visual pres release
(C) ONE, Yusuke Murata/Shueisha, Hero Association Headquarters