"Though it won't be realized anytime soon, I am working on it anyway."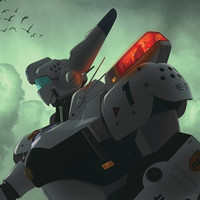 After GENCO's announcement at Annecy International Animation Film Festival, 62-year-old Kazunori Ito confirmed on his official Twitter that he has been attached to the Patlabor EZY project.
He is one of the five members of Headgear, the team who created the Patlabor franchise, and worked as the main scenario writer for its anime series. He was a long-time collaborator with director Mamoru Oshii since the Urusei Yatsura TV series in the early 1980s, but he and other three members of Headgear, Masami Yuuki (manga author), Akemi Takada (character designer), and Yutaka Izubuchi (mecha designer), were not involved in the recent The Next Generation -Patlabor- live-action series (2014-2015) directed by Oshii. You can see "Headgear Presents" is written above the title in the main visual revealed at the festival.
"I have been working on a thing like this. Though it won't be realized anytime soon, I am working on
it anyway. It won't be realized anytime soon..."
今、こんなのやってます。 https://t.co/mjG6wmBqlA
実現はもうちょっと先だけど、とにかくやってることはやってます。
実現はもうちょっと先なのだった……

— 伊藤和典 (@Ito_Kazunori) June 14, 2017
GENCO's president and representative director Taro Maki previously revealed on his Twitter that he will produce
the Patlabor EZY project, so the new Patlabor is expected to be animated by GENCO, not by the first OVA and
film's Studio Deen, the TV series and the second OVA's Sunrise, the second film's Production I.G, or the third
film WXIII's Madhouse. GENCO's most recent work is the anime film adaptation of Fumiyo Kouno's award-winning
manga Kono Sekai no Katasumi ni/In This Corner of the World.
フランスのアヌシー映画祭で、パトレイバーの新しいプロジェクトが発表になりました。
私がプロデュースをします。
PATLABOR EZY pic.twitter.com/KWFlyYjFBY

— 真木 (@makitaro1997) June 14, 2017
Source: Kazunori Ito Twitter