New spin-off focuses on delinquent Dust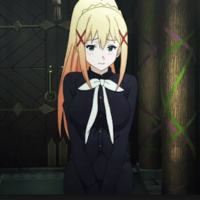 August 1st will be a busy day for Kazuma and company. The 12th Konosuba light novel by Natsume Akatsuki and Kurone Mishima, titled "Female Knight's Lullaby," will be out in Japan. It promises more of Darkness in aristocratic trappings, plus a mystery girl who shows up calling her "mama!" There's also a limited edition version (out July 24th) with a new, second OVA.
In addition to this, there's another spin-off. This one focuses on Dust, a character who has hardly been in the anime, but who the author has talked up. A Spotlight For (Even) This fool! Gifting this Wonderful World with Blessings! Extra follows the delinquent (you might remember him as the blond who visits Kazuma in prison in the anime), whose business in stolen goods earns him a frightening warning from Vanir.
Rather than the regular creators, this one is writte by Kuma Hiru (author of Reincarnated Into a Vending Machine) and illustrated by Hagure Yuki.
Elsewhere, GameGate (yeah, that's what they're called) has released a Megumin alarm clock app with the arch-mage threatening the owner with explosion magic and/or eating the sleeper's breakfast.
大人気TVアニメ『この素晴らしい世界に祝福を!2』のめぐみんがアラームとなって登場!ボイスは全て新規録り下ろし!めぐみんに起こしてもらって楽しい一日を迎えよう!https://t.co/fJMenAWh7R #このすば #めぐみんアラーム pic.twitter.com/9Dn5z9RS08

— ゲームゲート (@Gamegate_jp) June 16, 2017
There's also three new t-shirts from Groove Garage
【新商品】この素晴らしい世界に祝福を!2 のユニークなデザインTシャツに新作登場!!「カズマと仲間たちの指紋盗難注意」「アクアのエリスの胸はパッド入り」「ダクネスのむしろ望むところだ」Tシャツ3種予約開始!! このすば! https://t.co/XtBU7JQ95f #このすば pic.twitter.com/ultM4QtCsd

— [email protected]斜め上行く (@GuruGare) June 16, 2017
------
Scott Green is editor and reporter for anime and manga at geek entertainment site Ain't It Cool News. Follow him on Twitter at @aicnanime.