The story is set in the world the original Saint Tail has been disappeared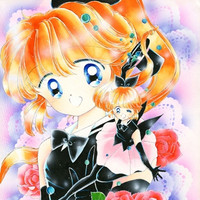 Pixiv, one oft he most popular Japanese online community for manga artists and illustrators, started a contest to recruit an artist for the sequel to Megumi Tachikawa's Kaitou Saint Tail/Mysterious Thief Saint Tail shoujo manga series. The original manga was serialized in Kodansha's monthly shoujo manga magazine Nakayoshi from 1994 to 1996, then compiled in seven tankobon volumes. Its TV anime adaptation by Tokyo Movie was aired for 43 episodes from 1995 to 1996.
The original manga author Tachikawa will also join the screening meeting. The Grand Prix winner's work is guaranteed to be serialized in a magazine of Kodansha, and also to get its tankobons and merchandise.
The story of the sequel will be set in the world where the original Saint Tail has been disappeared and will feature a new mysterious thief who appears in Seika-city to solve the troubles of the lost lambs.
While there is no restrictions on the number, gender and age for the new Saint Tail characters, you have
to follow the three rules in the story below:
1. Saint Tail steals for the lost lambs, never for self-interest.
2. Saint Tail's weapons are his/her physical ability and magics inherited from his/her parents.
3. Saint Tail must have a some kind of "Tail" like the one that Meimi in the original series had.
If you want to be the new Saint Tail manga artist, please post the illustrations and settings of the main
characters, and eight pages of the manga (or rough sketches) with a tag "セイント・テール新章マンガ募集"
on Pixiv. Submissions will be accepted through 23:59 on July 17.
Source: pixiv