"If the cheering screenings get enough support, we may see some possibility."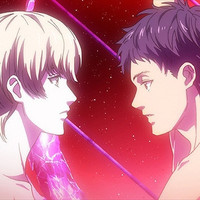 On Sunday, the director of the currently-showing film KING OF PRISM -PRIDE the HERO-, Masakazu Hishida, joined a stage greeting event at the Midland Square Cinema theater in Nagoya-city along with two of the main voice cast, Souma Saito (Yukinojo Tachibana) and Taku Yashiro (Kakeru Juouin), and expressed his desire for a sequel. "I myself want to see the new shapes of the characters. I'd like to continue to keep doing my best by and by," said Hishida.
The second feature film from the KING OF PRISM anime franchise was released in 56 theaters in Japan on June 10, which was four times more than the first film KING OF PRISM by Pretty Rhythm initially had in January 2016. After finishing in seventh position in its first week in release, the 70-minute film crossed the 100 million yen mark only in four days.
After the film's opening, Hishida has joined six stage greeting events with the cast in Kanagawa, Chiba,
Tokyo, Osaka and Kyoto, and this Nagoya event was the seventh. According to Mantan Web, he said on the
stage, "After finished making this film, my stock of ideas was exhausted. But while I was spending the same
time, eating the same food, and discussing many things with the voice cast members last and this week, I
have been able to see each character's private. The characters are growing steadily." In terms of a sequel,
"If the cheering screenings for this film get enough support, I think we may see some possibility. Please
continue your support."
キンプリ:菱田監督が続編に意欲「キャラ育ってる」 応援上映がカギに? https://t.co/SAqbuZUS1f pic.twitter.com/24CPoqy8Zz

— MANTANWEB (まんたんウェブ) (@mantanweb) June 18, 2017
初めての舞台挨拶in京都!空き時間に監督は東本願寺でヒット祈願をされたそうです。またみなさんにお会いできますように写真だとわかりづらいですが、斉藤さんも気になっていた八代さんのシャツは大阪の日と色違いです。 #kinpri pic.twitter.com/fh0hAqcXkg

— キンプリ公式♡全国胸キュン上映中(@kinpri_PR) 2017年6月19日
---
"KING OF PRISM -PRIDE the HERO-" full trailer
Poster visual
Source: Mantan Web