Illustration contest winners' works will be introduced in the upcoming 17th episode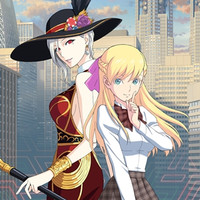 The official website for the web anime adaptation of mixi's mega hit action RPG Monster Strike today announced that the seven-minute anime series, posted every Saturday, was viewed over 200 million times worldwide on YouTube between its premiere of October 10, 2015 and June 17, 2017. The anime crossed the first 100 million mark back in August 2016.
The Monster Strike web anime series has been available on its official YouTube channel worldwide with multilingual support: English, Traditional Chinese, Simplified Chinese, Korean, French, German, Spanish, and Portuguese. And as well as the the web series, Monster Strike The Movie has been also available to Crunchyroll members worldwide outside of Japan, China, Taiwan, Hong Kong, and Macau.
In commemoration of the record, the franchise has started offering 26 character icons for SNS, which can be downloaded from the special campaign site. In addition, the franchise is now holding an illustration
contest of the Monster Strike characters. The winners' works will be introduced in the ending of the
upcoming 17th episode of the ongoing second season to be streamed on July 22. To participate, post
your Monster Strike art with a hashtag "#モンストアニメ2億回再生" on Twitter. Entries will be accepted
till July 9.
Samples of the icons
Latest key visual
Announcement for the campaign (in Japanese)
Source: mixi press release
©mixi, Inc.