Its last exhibition dedicated to cell anime works started yesterday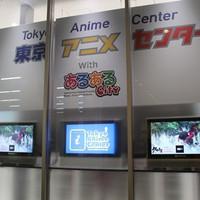 Tokyo Anime Center, an exhibition facility located on the fourth floor of the Akihabara UDX building, has announced that it will be closed on July 18 due to expiration of contract with the building. The exhibition space has been operated by The Association of Japanese Animations since 2006. Reopening of the facility at other places will be announced on the official website, if realized.
As reported many times, the facility has been regularly holding many anime related exhibitions displaying valuable materials, such as key animation drawings and voice actors' autographed promotional posters, and also offering various anime merchandise including its shop's original ones.
As its last event, Tokyo Anime Center has been holding an exhibition dedicated to traditional cell animation works in cooperation with Tokyo Prefecture since yesterday, June 20. The prefecture has been operating the "Anime Archive Project" to preserve the invaluable production materials used in
production of cell anime titles and to utilize them as tourism resource.
In the exhibition to be held till July 17, differences of the production process between cell and digital
animation are explained with panels, and visitors are able to see various production materials (layouts,
key animation drawings, between animation drawings, planning papers, scenarios, storyboards, cells)
of popular anime titles, including Astro Boy, Mobile Police Patlabor, You're Under Arrest!, Oishinbo,
and Mai Mai Miracle.
Twitter announcement by Tokyo Metropolitan Government's public relations section
【イベント】東京都は、セルアニメ等に関する貴重な資料を良好な環境で保管し、観光資源として活用する事業を行っています。このたび、保管しているセルアニメや原画等を、6/20から7/17まで東京アニメセンターにて展示します。 https://t.co/Fmh1Q1qEmx pic.twitter.com/U4OuLztSPg

— 東京都庁広報課 (@tocho_koho) 2017年6月19日
Akihabara UDX building
Tokyo Anime Center
Source: Tokyo Anime Center