Anime Expo at the Los Angeles Convention Center, July 1st - 4th, 2017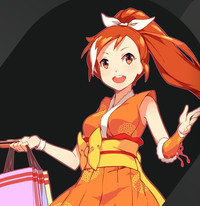 Here at Crunchyroll, we know that a big part of everyone's con experience is buying their favorite anime merch. That's why we're kicking off our Anime Expo announcements with a sneak peek of what the Crunchyroll booth (#2300) in the Exhibit Hall will be selling this year!
From t-shirts and accessories to Nendoroids and wall scrolls, we're bringing over 40 items from some of this year's most popular titles. So if you're completely obsessing over My Hero Academia like us or on the lookout for merch featuring your best girl from Re:ZERO then the Crunchyroll booth (#2300) is where you'll want to be!
Not entirely convinced? Then be sure to keep a close eye on Crunchyroll's Twitter because we'll be counting down the days until Anime Expo with exclusive first looks at some of the items we'll be selling!
Plus, for the first time ever at Anime Expo, we're giving out coupons to all of our Premium Members! Get $5 off a purchase of $30 or more by presenting the coupon at check out. Coupons will be given out with every premium bag, so make sure you log in and pick up yours beforehand.
If you do forget to pick up your premium bag before stopping by the Crunchyroll booth (#2300) in the Exhibit Hall, no problem! Just show us your Premium Membership on your phone and we'll give you the discount.
* * * *
What to know where Crunchyroll will be heading after Anime Expo? Check out www.crunchyrollevents.com for more information on Crunchyroll's 2017 convention schedule.