Noriaki Akutaya (Bakuman., Active Raid)-directed series will premiere on July 2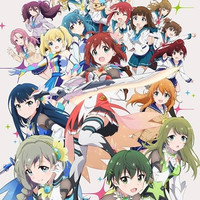 The official website for the upcoming TV anime adaptation of Tokyo-based online game company COLOPL's smartphone game app Battle Girl High School today posted a 90-second new PV introducing its 18 "Hoshimori" heroines and the OP theme song "Hoshi no Kizuna" (The Bond of Stars) performed by their voice actresses. The CD single of the song is scheduled to be released on July 26.
The story centers on 18 high school girls at Shinjugamine Girls Academy. While spending their cheerful school life, they transform into "Hoshimori" (literally means the guardians of stars) wearing the "Seii/Star Cloth" that are given by a sacred tree named "Shinju" and fight against mysterious invaders "Irous."
2nd PV
The Silver Link. (Non Non Biyori, Brave Witches)-animated and Noriaki Akutaya (Bakuman., Active Raid)-
directed series is set to premiere on Tokyo MX, BS11, and Kansai TV on July 2. And 12 hours later of the TV
premiere, it will be also streamed on YouTube for free till September 30.
TVアニメのPV第2弾が公開! OP「ホシノキズナ」に乗せて、18人の星守が登場です。さらになんとアニメ放送期間中、"YouTubeでの全話無料配信"が決定しました! 放送地域外の方でもご覧いただけますよ! https://t.co/M73nja1NF6 #バトガ pic.twitter.com/7R6SCsIcqT

— 【公式】バトルガール ハイスクール (@bgirl_colopl) June 21, 2017
Main Voice Cast:
Miki Hoshitsuki: Aya Suzaki
Subaru Wakaba: Ayane Sakura
Haruka Narumi: Sora Amamiya
Nozomi Amano: Nao Toyama
Yuri Himukai: Sumire Uesaka
Kurumi Tokiwa: Saori Hayami
Kanon Kougami: Kaede Hondo
Shiho Kunieda: Shino Shimoji
Anko Tsubuzaki: Yumi Uchiyama
Renge Serizawa: Yoshino Nanjo
Asuha Kusunoki: Mutsumi Tamura
Sakura Fujimiya: Misaki Kuno
Hinata Minami: Hiromi Igarashi
Sadone: Aoi Yuki
Kaede Sendoin: Ibuki Kido
Michelle Watagi: Emiri Kato
Kokomi Asahina: Hitomi Harada
Urara Hasumi: Maaya Uchida
---
1st PV
TV anime key visual
Game app key visual
Source: "Battle Girl High School" TV anime official website
©2017 COLOPL/Battle Girl HS Project
©2015-2017 COLOPL, Inc.