First episode launches at 9pm PDT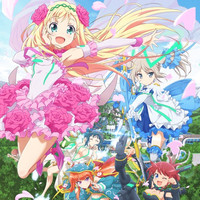 Crunchyroll is excited to announce the addition of Hina Logic - from Luck & Logic to our catalog of simulcasts. The series will debut with the first episode tonight at 9PM PDT, with subsequent episodes following every Friday night. Crunchyroll describes the series below:
On a spring day when the cherry blossoms have started to fall, the naïve princess of a small country, Lion begins her days at a school in Hokkaido. The school houses a special facility run by ALCA that trains Logicalists who protect the peace of the world. Lion has a lot of unique classmates in Class 1-S, including Nina, a Logicalist. This is the story of the energetic and adorable days the Logicalists-in-training spend together. It's time to Trance!
The series will be available to members in the United States, Canada, United Kingdom, Ireland, Australia, New Zealand, South Africa, Scandinavia and Latin America