Looking for more Mega Pokemon to add to your arsenal? Look no further!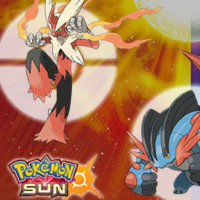 Pokemon Sun and Moon players can now use a special code to access five Mega Stones, all which can be used for several evolutions, including Sceptilite, Blazikenite, Swampertite, Banettite, and Cameruptite.
This is all part of a new event that's happening across the world, including North America, Japan, and Europe. There's no word just yet on how long the event's going to last, so you're going to want to input the code as soon as possible.
The code is MATSUBUSA, and you need to enter it into your copy of Pokemon Sun or Pokemon Moon. After entering the code, you'll get your Mega Stone Gift from the deliveryman at any Pokemon Center. Don't forget to pick it up!
[via Siliconera]
-------
Fueled by horror, rainbow-sugar-pixel-rushes, and video games, Brittany is a freelancer who thrives on surrealism and ultraviolence. Follow her on Twitter @MolotovCupcake and check out her portfolio for more.