New song "Hello Again" is now available on ANiUTa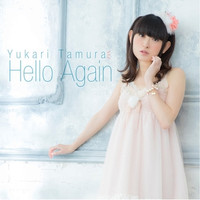 It was announced at the exclusive event for her fan club members at Tokyo International Forum Hall A yesterday that popular anime voice actress/singer Yukari Tamura has launched her own music label "Cana aria" and her upcoming new mini album will be released from the label in early fall of this year.
In August 2016, Tamura changed her agency from the previous I'm enterprise to Tokyo-based entertainment content company MAGES.'s artist division Amuleto. Her previous solo singer contract with King Records was also expired in March 2016.
Also at the event, her performed her new song "Hello Again" for the first time to the fans. The song is now digitally available on ANiUTa, a recently launched anime music specialized paid subscription service, and will be also included in the mini album. It has been two years and two months since she released her last 26th single "Sukidatte Ienakute" in April 2015.
Her highly anticipated next solo live concert, tentatively titled "Tamura Yukari LOVE ♡ LIVE 2017," is
scheduled to be held at Yokohama Arena (capacity: 17,000) for two days on September 25 and 26.
In addition, her new radio program "Tamura Yukari no Otome Gokoro Syndrome" will start airing on
Bunka Housou from July 6.
"Hello Again" digital single jacket image
---
She also reprises her role as Nanoha Takamachi in the upcoming film Magical girl lyrical Nanoha Reflection
and performs an insert song "Manatsu no Honey Days." The song is confirmed to be included in the film's
soundtrack album to be released on July 21.
「魔法少女リリカルなのは Reflection Original Soudtrack」7/21(金)発売決定!映画で使用されるBGM全てを収録!挿入歌【「真夏のHoney Days」高町なのは(CV:田村ゆかり)】も収録!!https://t.co/a2byOJeJVG #なのは pic.twitter.com/XUQN6lUAIo

— 魔法少女リリカルなのは (@lyricalnanoha_) June 23, 2017
---
Source: Yukari Tamura official website