Studio Deen-animated TV series is set to premiere on July 22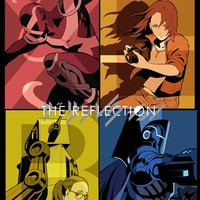 The official website for the upcoming original superhero-themed TV anime series THE REFLECTION today revealed a key visual featuring its four main characters, and also introduced additional characters with their voice actors.
The TV anime series is co-created by Stan Lee (Spider-Man, X-men comic creator) and Hiroshi Nagahama (Mushi-shi anime director), and animated by Studio Deen (KonoSuba, Showa Genroku Rakugo Shinju). The 12-episode series directed by Nagahama is scheduled to premiere on the NHK network on July 22, 2017, and will be also available via streaming on Crunchyroll.
Key Visual
(clockwise from the right upper corner)
Eleanor Evarts: Mariya Ise (Urara Kasugano/Cure Lemonade in Yes! PreCure 5)
I-GUY (Ian Izett): Satoshi Mikami (Japanese dub voice of Benedict Cumberbatch)
Lisa Livingston: Satomi Hanamura (Anise Azeat in Galaxy Angel II)
Xon: Shinichiro Miki (Takumi Fujiwara in Initial D)
To promotes the series, NHK will air a 25-minute special program "Fascinating AmeComi! Approaching the
Attraction of The Upcoming New Anime 'THE REFLECTION'" at 23:25 on July 1 (JST), having director Nagahama,
American comic critic Mitsuko Mitsuoka, and Japanese idol group 9nine (who perform the ED song and voice
the characters inspired by themselves) as special guests.
Then NHK BS Premium will also air a one-hour program titled "The Man Who Created 80's: The World of
Trevor Horn" dedicated to the history and works of 67-year-old legendary English musician/producer Trevor
Horn, who serves as music producer for the anime, in its "Yougaku (Western music) Club" music program
to be aired at 22:50 on July 9.
---
Additional characters:
(from left)
Kana: Kanae Yoshii (9nine)
Hiro: Hirona Murata (9nine)
Uki: Uki Satake (9nine)
Saya: Sayaka Nishiwaki (9nine)
Dead Wing
CV: Shouto Kashii (Tamonbo in The Eccentric Family 2)
- He has completely lost his human form under the influence of The Reflection, and is an admirer of
Reis who has not evaded his ugly looks and has guided him. He is good at flying and attacks using
ultrasonic waves.
Flaming Fury
CV: Yuko Sanpei (Cure Dream/Nozomi Yumehara in Yes! PreCure 5)
- One of Reis' followers. She can manipulate flames freely and can fly in the sky by applying the ability.
By concentrating the fire power, she can use her ability like a burner even in the water.
Steel Ruler
CV: Yoko Hikasa (Farnese in Berserk)
- A cool-headed woman who agrees with Reis' ideal and has become his follower. She has an extremely
strong power that can manipulate any type of metals exist.
Mr. Mystic
CV: Tomomichi Nishimura (Kuru in Dragon Ball Super)
- A former astronomer who found the indication of The Reflection earlier than anyone and gave warning
before it actually occurred. Under certain conditions, he can detect whereabouts of the all Reflected, and
can express his intentions and observe them.
Reis
CV: Kouki Miyata (Aiichiro Nitori in Free!)
-He has put The Reflected together secretly and has been pulling the wires from behind for some purpose.
His ability is unknown. He is good at winning the hearts and minds of the people, and has expanded his
power by persuading the Reflected who are perplexed with their abilities.
---
The voice recording session for the anime's first episode was already done.
Comments from the three main cast:
Shinichiro Miki (Xon):
"I had spent some restless days since a few days before the recording, because this is such a large-scale
title. As expected, the studio was filled with heat and the staff and actors' passion on the recording day.
I realized that THE REFLECTION will be sent out to the world as 'a work of art,' not as 'a product.' Every
part of this anime is worthwhile to see, and it will take a little more time until its birth! Please look
forward to it!!"
Satoshi Mikami (Ian Izett/I-GUY):
"I am also looking forward to seeing how the story goes, because this is an original American Comic title
that has many mysteries. I have learned that I-GUY's true identity Ian Izett was a popular musician who
released hit songs in the past. I also had experience playing in a band, so I am excited to see if there will
be many things that I can sympathize with in the story. Please be excited about it!"
Mariya Ise (Eleanor Evarts):
"What is The Reflection, and each character's background... This anime has so many mysterious parts that
even we have not been been told yet. But we can face our characters with our full effort in all sincerity,
because we have immense trust in this story created by director Nagahama. We realize this happiness
that we can perform with this team, and we unite and do our best to deliver a brand new world like no one
has ever seen to the viewers!"
---
Teaser PV
Source: "THE REFLECTION" official website
© Stan Lee, Hiroshi Nagahama/THE REFLECTION Production Committee