Also, the Japanese dub of "RWBY VOLUME 1-3: The Beginning"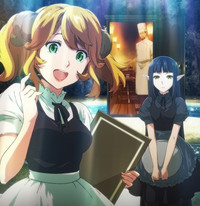 Ka-boom! Summer anime season announcements kick off at Crunchyroll today with a batch of new titles set to begin streaming soon, including the likes of Saiyuki Reload Blast, Restaurant to Another World, A Centaur's Life, the Japanese dub of RWBY VOLUME 1-3: The Beginning, and Classroom of the Elite!
Restaurant to Another World
Launches: 7/3/2017 11:05AM PT (Monday)
Territories: Worldwide except Asia
Synopsis
There is a certain restaurant in the first basement level of a multi-tenant building in one corner of a shopping street near the office district. The historical 70-year-old restaurant, marked by a sign with a picture of a cat, is called "Western Cuisine Nekoya." This restaurant looks completely normal through the week, but on Saturdays, it opens in secret exclusively to some very unique guests. During these hours, doors in various areas of a parallel world open to allow customers of many different races and cultures into the restaurant. This "Restaurant to Another World" and its food hold an exotic charm to these highly diverse customers. This is a story of the heartwarming, once-in-a-lifetime encounters between our reality and another world, between the restaurant's customers and its owner, and the food shared among them all.
----
A Centaur's Life
Launches: 7/9/2017 7:30AM PT (Sunday)
Territories: Worldwide except Asia
Synopsis
Kimihara Himeno, also known as "Hime," goes about her life, love, and studies just like any ordinary high school girl. The only difference is that she's a centaur. She enjoys her school life along with classmates of many unique shapes, including Nozomi the draconid, Kyouko the goatfolk, an angelfolk class representative, and Sassas-chan the Antarctican. Hime's younger cousin Shino-chan, her friend Maki-chan, and the class representative's four younger sisters also join the cast in this very cute slice-of-life story about girls who are human, yet aren't!
---
SAIYUKI RELOAD BLAST
Launches: 7/5/2017 8:00AM PT (Wednesday)
Territories: Worldwide except Asia
Synopsis
Humans and yokai, science and magic... all exist side-by-side on a peaceful continent free of all order and regulation, widely known as "Shangri-La." The balance there was shattered when the Minus Wave caused all the yokai on the continent to rampage, an event known as the "Calamity." Continuing their journey west to stop Gyumaoh's resurrection experiments, the root of all the evil on the continent, the Three Aspects are finally drawing closer to India. But the closer they get, the more pronounced the influence of the Calamity becomes, and the more intense their battles become. Also standing before them is the tragic karma of 500 years past...
---
Classroom of the Elite
Launches: 7/12/2017 9:00AM PT (Wednesday)
Territories: Worldwide except Asia
Synopsis
Ayanokouji Kiyotaka has just enrolled at Tokyo Koudo Ikusei Senior High School, where it's said that 100% of students go on to college or find employment. But he ends up in Class 1-D, which is full of all the school's problem children. What's more, every month, the school awards students points with a cash value of 100,000 yen, and the classes employ a laissez-faire policy in which talking, sleeping, and even sabotage are permitted during class. But among all the students who lead such self-indulgent lives, there is one who disagrees with it all and chooses to remain solitary, avoiding contact with others: the beautiful Horikita Suzune. She has figured out that, even though the school gives students huge amounts of money, it also offers many means of "assistance for students with no money." One month later, Ayanokouji, Horikita, and the students of Class D learn the truth of the system in place within their school...
---
RWBY VOLUME 1-3: The Beginning <Japanese Dub>
Launches: TBA
Territories: TBA
Synopsis
The future-fantasy world of Remnant is filled with ravenous monsters, treacherous terrain, and more villains than you can shake a sniper-scythe at. Fortunately, Beacon Academy is training Huntsmen and Huntresses to battle the evils of the world, and Ruby, Weiss, Blake, and Yang are ready for their first day of class.
---
Patrick Macias is editor in chief of Crunchyroll News & Otaku USA magazine.
He is currently serializing his latest writing project, MONDO TOKYO, on Wattpad.