Mari Asato (Real Oni Gokko 3-5)-directed film hits Japanese theaters November 3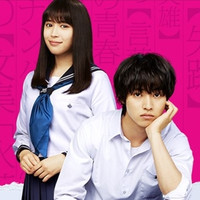 The official website for the upcoming live-action film adaptation of Honobu Yonezawa's mystery novel Hyouka today released a 30-second teaser introducing 22-year-old Kento Yamazaki as the male protagonist Houtarou Oreki and 22-year-old Alice Hirose as the main heroine Eru Chitanda for the first time. It is also confirmed that the theme song for the film, "Iolite" is performed by two-member unit Itowokashi, and the song is introduced in the clip.
Teaser
The film's official Twitter opens today, posting a poster visual featuring the two.
\映画『氷菓』公式Twitterオープン/#山﨑賢人 さん、#広瀬アリス さん、#小島藤子 さん、#岡山天音 さんら豪華フレッシュキャスト競演の『#映画氷菓』特報映像&ポスターが遂に解禁!11.3(金)公開決定
詳しくは☞https://tco/c8Xhn3FqDf pic.twitter.com/fyySZALIKG

— 映画『氷菓』公式 (@hyouka_movie) June 29, 2017
Itowokashi artist visual
さらに、主題歌は #イトヲカシ 「アイオライト」に決定
『#映画氷菓』のために描き下ろした青春100%の楽曲

イトヲカシからのコメントも到着しました
詳しくは☞https://t.co/c8Xhn3FqDf pic.twitter.com/yrxiPW1w7H

— 映画『氷菓』公式 (@hyouka_movie) June 29, 2017
---
The Hyouka live-action film is directed by 41-year-old Mari Asato, who has mainly worked on horror genre
films, including Real Onigokko 3-5 (2012) based on Yusuke Yamada's horror novel and Zero The Movie (2014)
inspired by Koei Tecmo's Zero/Fatal Frame horror game series. The Kadokawa Daiei Studio-produced film
is set for a release in Japan on November 3, 2017.
Hyouka is Yonezawa's debut novel published in October 2001, and the first volume of his Koten-bu/Classic
Literature Club series that has printed over 2.05 million copies in total so far. Under the title "Hyouka,"
the series' episodes were adapted into a 22-episode TV anime by Kyoto Animation in 2012.
TV anime "Hyouka" key visuals
Source: "Hyouka" live-action film official website, Twitter
©2017 "Hyouka Production Committee"
©Honobu Yonezawa・KADOKAWA SHOTEN CO., LTD./The graduates of the classic club of the Kamiyama high school