18-song special album will be available on August 9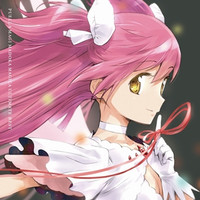 Aniplex today revealed a CD cover art for "Puella Magi Madoka Magica Ultimate Best," a new best album containing the 18 songs from the Madoka Magica franchise (TV anime, films, pachinko games), and its track list. The Madoka art on the CD cover is newly drawn by the co-anime character designer/chief animation director of the three-part film series, Junichiro Taniguchi.
The album will be released in Japan on August 9, and will be produced for a limited time until December 31, 2017. Its 3,780-yen time-limited edition set comes with a bonus DVD including the creditless OP/ED movies and a special movie for the upcoming smartphone game Magia Record: Puella Magi Madoka Magica Side Story to be available this month.
CD cover art
Taniguchi says on his Twitter, "I actually drew it in a much bigger wide-size. I think we can show its full-size
version in near future."
ジャケット描きました。実際はワイドサイズでかなり大きく描いたのでそのうち全容をお見せできると思います(*´-`) https://t.co/3LlLoYsqeW

— 谷口淳一郎 (@syaorin_2009) June 30, 2017
---
"Puella Magi Madoka Magica Ultimate Best" track list:
1. "Connect" (TV anime OP song) by ClariS
2. "Mata Ashita" (DVD/Blu-ray edition 1st&2nd episodes ED) by Aoi Yuuki (Madoka Kaname)
3. "Credens justitiam" (soundtrack music)
4. "Sis puella magica!" (soundtrack music)
5. "and I'm home" (DVD/Blu-ray edition 9th episode ED) by Eri Kitamura (Sayaka Miki) & Ai Nonaka (Kyoko Sakura)
6. "Magia"(TV anime ED song) by Kalafina
7. "Luminous" ("Beginnings" OP) by ClariS
8. "she is a witch" (soundtrack music)
9. "Hikarifuru" ("Eternal" ED) by Kalafina
10. "naturally" by Aoi Yuuki (Madoka Kaname) & Eri Kitamura (Sayaka Miki)
11. "Akogare Saita" by Aoi Yuuki (Madoka Kaname)
12. "Mebius Ash" by Chiwa Saito (Homura Akemi)
13. "Yumeoto" by Aoi Yuuki (Madoka Kaname) & Chiwa Saito (Homura Akemi)
14. "stairs" by Mami Tomoe (Kaori Mizuhashi) & Ai Nonaka (Kyoko Sakura)
15. "Mada Dameyo" (soundtrack music)
16. "Noi!" (soundtrack music)
17. "Colorful" ("Rebellion" OP) by ClariS
18. "Kimi no Gin no Niwa" ("Rebellion" ED) by Kalafina
"Magia Record: Puella Magi Madoka Magica Side Story" visual
Source: Aniplex press release
©Magica Quartet/Aniplex・Madoka Partners・MBS
©Magica Quartet/Aniplex・Madoka Movie Project
©Magica Quartet/Aniplex・Madoka Movie Project Rebellion