Akane Shimizu's anthropomorphized cells-featured series will have over 1.3 million copies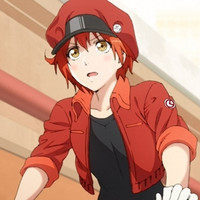 To promote the release of its next 5th tankobon volume in Japan on August 9, Kodansha's official YouTube channel has posted a 60-second animated CM for Akane Shimizu's Hataraku Saibou/Cells at Work! manga. Its 30-second version was also introduced during the special program that was aired before the first episode of the TV anime Welcome to the Ballroom last night. The 30-second version CMs will be aired each week during the TV anime's broadcast. No production staff and voice cast members are officially announced.
『はたらく細胞』最新第5巻発売決定記念スペシャルアニメ映像がついにお披露目です!YouTubeではフルサイズVer.の公開がスタート!動く細胞さんたちをぜひチェックしてください!⇒https://t.co/uK04JKKFi4#はたらく細胞 pic.twitter.com/DJxn95dDyF

— 『はたらく細胞』公式 (@hataraku_saibou) July 2, 2017
The manga author posted an illustration of the blood red cell girl saying "Will I be Animated...!?"
赤血球ちゃんもドキドキしています。清水茜先生からイラストが届きました!#はたらく細胞 pic.twitter.com/DAMp0DZK9h

— 『はたらく細胞』公式 (@hataraku_saibou) July 2, 2017
---
The anthropomorphized human cells-featured manga series has been serialized in Kodansha's Monthly Shonen
Sirius since the magazine's March 2015 issue, and according to the magazine's official Twitter, the manga will
have 1.3 million copies in print as of the release of its 5th volume. The special edition of the volume comes with
an acryl keyholder of the Natural killer cell or the Dendritic cell.
【8月号本日発売/告知②】
『はたらく細胞』第5巻・特装版、アクリルキーホルダー付きで8月9日(水)発売!https://t.co/lgqbjyREOV pic.twitter.com/PPhWmWuIGw

— 月刊少年シリウス編集部 (@shonen_sirius) June 26, 2017
1st and 2nd volume
3rd and 4th volume
Source: Kodansha press release, "Hataraku Saibou" official Twitter, Monthly Shonen Sirius
© Akane Shimizu/Kodansha