2016 Kyoto Animation production joins new acquisitions including "Lupin the 3rd Castle of Cagliostro" and "Magical Girl Lyrical Nanoha: Reflection"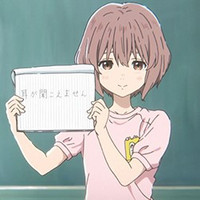 Film distributor and licensor Eleven Arts held its panel on Saturday afternoon to announce a few new acqusitions for its library of feature films and announced one highly-anticipated title in "A Silent Voice". The 2016 feature film adaptation of the manga by Yoshitoki Ōima was produced by Kyoto Animation and received numerous awards over the last year and a half such as the Japan Media Arts Festival Award for Animated Excellence.
The film will screen starting in October along with the Magical Lyrical Nanoha film called Magical Lyrical Nanoha Reflection. Eleven Arts detailed its acquisition of the 1979 feature film Lupin the Third: Castle of Cagliostro,which marked Hayao Miyazaki's directorial debut and will screen in September.
Thank you for coming to our panel! We appreciate your enthusiasm for our newly announced titles, #ASilentVoice, #Lupinthe3rd #CastleofCagliostro and #NanohaReflection #animeexpo17 #animeexpo #ax2017 #elevenarts

Posted by ELEVEN ARTS on Saturday, July 1, 2017