Film to begin limited engagement starting August 11th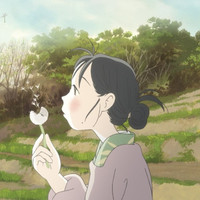 Funimation has announced that it will screen Sunao Katabuchi's crowdfunded feature film project In This Corner of the World in the US beginning in August 11th as a limited engagement in select theaters with both English subititled and dubbed options. The film is described below:
The award-winning story of IN THIS CORNER OF THE WORLDfollows a young lady named Suzu Urano, who in 1944 moves to the small town of Kure in Hiroshima to live with her husband's family. Suzu's life is thrown into chaos when her town is bombed during World War II. Her perseverance and courage underpin this heart-warming and inspirational tale of the everyday challenges faced by the Japanese in the midst of a violent, war-torn country. This beautiful yet poignant tale shows that even in the face of adversity and loss, people can come together and rebuild their lives.
The cast is as follows:
Suzu
Japanese: Non
English: Laura Post
Shusaku (Suzu's husband)
Japanese: Yoshimasa Hosoya
English: Todd Haberkorn
Harumi (Niece)
Japanese: Natsuki Inaba
English: Ava Pickard
Keiko (Suzu's sister-in-law)
Japanese: Minori Omi
English: Kira Buckland
Tetsu
Japanese: Daisuke Ono
English: Jason Palmer
Sumi (Suzu's little sister)
Japanese: Megumi Han
English: Christine Cabanos
Entarou (Shusaku's father)
Japanese: Shigeru Ushiyama
English: Kirk Buckland
San (Shusaku's mother)
Japanese: Mayumi Shintani
English: Barbara Goodson
More information on theater and ticket sales will be released in the coming weeks.