Launch date and times for some titles TBA, more titles to premiere this Fall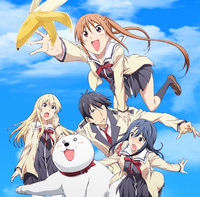 Crunchyroll has just wrapped up their Industry Panel at Anime Expo, so the time is right for an overview of the new including such titles as AHO-GIRL, Elegant Yokai Apartment Life, Netsuzou Trap -NTR-, and Tsuredure Children. Check out the info below for key art, story info, and other facts!
AHO-GIRL

Launches: TBA
Territories: TBA
Synopsis
She is Hanabatake Yoshiko, and she's an idiot through and through. She loves bananas, and she loves her childhood friend Akkun. That is all! Summer 2017, Aho Girl gets its long-awaited anime! Watching it will surely cheer you up, probably?
----
Elegant Yokai Apartment Life
Launches: 7/3/2017 8:30AM PT (Monday)
Territories: Worldwide except Asia
Synopsis
Yushi Inaba is forced into an awkward living situation at his uncle's house after his parents pass away. He decides that when he goes to high school, he's going to live on his own, and finds an ultra-cheap apartment named Kotobuki-so. But it was a monster apartment, filled with monsters, humans, and ghosts! At first, Yuki doesn't know how to deal with these eerie monsters, but after spending time with these strange creatures his closed heart gradually begins to open...
----
Netsuzou Trap -NTR-
Launches: 7/5/2017 5:30AM PT (Wednesday)
Territories: Worldwide except Asian, German-speaking, and Italian-speaking countries
Synopsis
Yuma, a high school second-year, is enjoying every day now that she has her first boyfriend. After she asks for relationship advice from Hotaru, her beautiful long-time friend who has had many boyfriends, Hotaru teases her for her inexperience and playfully does things to her that even her boyfriend doesn't do. Yuma and Hotaru's secret relationship continues to escalate, and Yuma finds herself unable to deny how it makes her feel. This school drama tells the story of the interwoven lives of these two girls with boyfriends.
----
Tsuredure Children
Launches: TBA
Territories: TBA
Synopsis
To those of you out there who never could say "I love you"— This story is about ordinary highschoolers and how love makes them fired up, shaken, laugh, cry, and hurt. Whether things go well or not, this story of adolescence and romance will show you how they spend their precious youth. Every character is the main character here, and you're sure to find one you can sympathize with. Tsuredure Children's TV anime begins airing Summer 2017! Let's get our hearts racing together!
In addition to the above titles, the following anme and manga titles will also premiere on Crunchyroll with dates and regions to be announced unless otherwise noted:
Knight's & Magic
A genius programmer and hardcore robot otaku are reborn into a world of knights and magic, where huge robots called Silhouette Knights roar across the land! Now reborn as Ernesti Echevalier, he uses his vast knowledge of machines and programming talents to begin to make his ultimate robot. But his actions have unexpected results...?! The dreams of a robot otaku will change the world!
Knights & Magic's first episode is available for premium users now.
Kino's Journey
"The world is not beautiful, therefore it is."
"Kino's Journey -the Beautiful World-" is a story about Kino, who travels around the world with nothing but her guns (for protection) and talking motorcycle Hermes (for company). Kino travels to many mystical lands, each with its unique customs and people, and learns about the world through their stories, at some times conjuring humor and inspiration or other times piercing cynicism. However, Kino has her own custom, to stay no longer than three days in every town without exception, as she believes it is enough time to learn almost everything important about the place while still leaving time to explore new lands.
Kino's Journey will debut in the upcoming fall season.
URAHARA
"PARK: HARAJUKU Crisis Team!" is now an anime! Top Japanese creators have partnered with the North American anime streaming site Crunchyroll to create URAHARA – a new series with a unique worldview and a striking visual style. A new era in Harajuku is dawning!
PARK: HARAJUKU Crisis Team! started serialization on Crunchyroll Manga and Tumblr in 2015 as part of a collaboration between writer-editor Patrick Macias, artist Mugi Tanaka (aka Oplant), and the PARK store in Harajuku, Tokyo. The story concerns a trio of shop girls – Rito, Mari, and Kotoko – that band together to battle an alien menace intent on removing famous locations and landmarks from the Earth.
URAHARA will debut in the upcoming fall season.
Manga
Crunchyroll also had several exciting manga announcements for the packed room on Sunday. Crunchyroll's ebook service, called the Manga Shop and available in beta within the Android anime app, launched earlier this year with over 800 books from Kodansha Comics. Seven Seas has now joined the platform with over 400 titles that will being to be available later this month.
Three exciting new titles are joining the manga simulpub service, available on web, iOS and Android!
Final Fantasy: Lost Stranger by Hazuki Minase
Scoring a job at Square Enix, Sasaki Shogo's dream of producing a Final Fantasy game finally seems within his grasp! But after he starts, he quickly discovers that the work has nothing to do with his favorite franchise at all… Disillusioned, his enthusiasm for FF begins waning despite his sister / co-worker Yuko's attempts to lift his spirits. Their conversation is cut short, though, when a runaway truck suddenly careens toward the two of them…!

When Shogo comes to, the first thing he sees is…a Moogle?! Wait, was that a Cure spell? And chocobos…?! Hurled into a Final Fantasy world unbound to any particular installment, how will an uber-fan like Shogo survive?!
Final Fantasy: Lost Stranger launches on July 12.
Knight's & Magic by Takuji Katō
A genius programmer and hardcore robot otaku is reborn into a world of knights and magic, where huge robots called Silhouette Knights roar across the land! Now reborn as Ernesti Echevalier, he uses his vast knowledge of machines and programming talents to begin to make his ultimate robot. But his actions have unexpected results...?! The dreams of a robot otaku will change the world!
Knight's & Magic launches on July 5.
Restaurant to Another World by Junpei Inuzuka and Takaaki Kugatsu
There is a certain restaurant in one corner of a shopping street near the office district. The historical restaurant, marked by a sign with a picture of a cat, is called "Western Cuisine Nekoya." This restaurant looks completely normal through the week, but on Saturdays, it opens in secret exclusively to some very unique guests. During these hours, doors in various areas of a parallel world open to allow customers of many different races and cultures into the restaurant. This "Restaurant to Another World" and its food hold an exotic charm to these highly diverse customers. This is a story of the heartwarming, once-in-a-lifetime encounters between our reality and another world, between the restaurant's customers and its owner, and the food shared among them all.
Restaurant to Another World launches on July 2.
Crunchyroll Expo
And finally, Crunchyroll announced its first round of guests for the inaugural Crunchyroll Expo, set for August 25-27 in Santa Clara, California!
Yoshitaka Amano
As a Japanese artist, character designer, and illustrator, Amano also works in the grounds of scenic art and stage costumes. Hired at Tatsunoko Production at the age of 15, he has created characters for some of the most prominent TV animations in Japan. He then became an independent artist in 1982. He is most well-known for his work as a character designer, title logo designer, and image illustrator for the Final Fantasy series. Since his debut, Amano's career as an artist has flourished, producing paintings with his unique, mysterious touch in solo shows in cities such as New York, Paris, and London.
Crunchyroll is further excited to announce that it will work with Amano-sensei to display an exhibition of his artwork. This marks the first time Amano has exhibited in the U.S. for seven years.
Gigguk
Gigguk is a Youtuber best known for his satirical look into the world of anime and it's culture. He has done various reviews and rants but is also known for his parody work.


Hiroshi Shimizu
A prolific Japanese animator​, Hiroshi​ Shimizu started at Ghibli studio ​working on Porco Rosso, Princess Mononoke,​ My ​Neighbor Yamada and Pompoko. After leaving Ghibli he ​went freelance​ and started to work on ​a combination of ​series​, high quality movies and OVA​, including​: JinRoh, Furi Kuri, Ghost in the Shell (Stand Alone Complex season 2), Millennium ​A​ctress, Lupin, SkyCrawler, One ​Piece (OAV)​, Naruto, Dragon Ball Z,​ and recently on the last Doraemon movie. He worked in ​several well known studio​s​ such as ​Studio Ghibli, Madhouse, Ankama Japan,​ TMS, Production IG, TOEI Animation, WIT STUDIO, Shin Ei Studio and now Yapiko-animation. His specialities are character ​designer, animator, animation supervisor and storyboarder. His most famous series as character designer is Michiko to Hachin.
The Chocobros are Coming to CRX!
Ray Chase
Ray Chase is best known for his versatility as a voice actor in video games and animation. Video game fans know him as the lead protagonist Noctis in the best-selling Final Fantasy XV and Edgar from Final Fantasy VI in World of Final Fantasy. Superhero fans know him as the voices of Jason Blood and Etrigan the Demon in the DC feature film Justice League Dark. He is a con fixture making appearances all over the world with his show "Loud, Annoying, and Very Annoying" (LAVA) with fellow voice actors Robbie Daymond and Max Mittelman.
Max Mittelman
Max Mittelman is a voice actor and native of Los Angeles, CA. For most of his young life, Max had wanted to become a doctor. His parents were so proud of him. Once he realized, however, that he would need to study grown-up things like organic chemistry, he decided that he would rather make loud noises in a padded booth for a living. Max never looked back and has since had the opportunity to play lead characters in popular Anime series such as Kousei in "Your Lie in April," Inaho in "Aldnoah.Zero," and Saitama in "One-Punch Man."

Other notable roles include: Persona 5 (Ryuji); Fire Emblem Fates (Leo, Kaden, Forrest); Seven Deadly Sins (King); Miraculous Ladybug (Plagg); Mobile Suit Gundam: Iron-Blooded Orphans (Ein); Star Ocean 5 (Fidel); Transformers: Rescue Bots (Blurr); Mobile Suit Gundam: Thunderbolt (Io); Fallout 4 (Zeke); Star Wars: Battlefront; (Quarren); Halo 5 (Promethean Captain, Rooker); Starcraft II: Legacy of the Void (Stone); Skylanders: Superchargers (Panderghast); Durararax2 (Shijima); Sword Art Online II (Jun); Magi: The Kingdom of Magic (Yunan); Doraemon (Soby); Atelier: Escha & Logy (Logy). Max Mittelman plays as Tredd in Kingsglaive: Final Fantasy XV.

Follow Max on Twitter @MaxMittelman
Adam Croasdell
Adam Croasdell is a film, TV & voice actor who's worked with Alan Rickman on the West End. He starred as Baldur in Supernatural, Hook's father in Once Upon A Time, is Bothwell on Reign. For video games he's Torvin in Middle Earth: Shadow Of Mordor & Ignis Scientia in Final Fantasy XV.
Chris Parson
Chris Parson is a voice actor who has voiced the title role (as well as many others) on Comedy Central's animated series Lil' Bush, and has lent his voice to episodes of Fox's popular shows Family Guy, American Dad!, The Cleveland Show, and Disney's Handy Manny.
Parson has also provided voice overs for several video games; he voiced the character Yusuf Tazim in Assassin's Creed: Revelations and has provided additional voiceover work for Red Faction: Guerrilla, Infamous 2, Mafia III, and Overwatch.Recently, he voiced the character Gladiolus Amicitia in Final Fantasy XV.
---
Patrick Macias is editor in chief of Crunchyroll News & Otaku USA magazine. He is currently serializing his latest writing project, PARANOIA GIRLS, on Wattpad.