Ex-Studio Ghibli director Hiromasa Yonebayashi new film opens this Saturday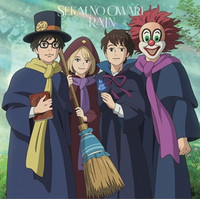 Five days before the film's theatrical release in Japan, the official website for four-member Japanese musical group SEKAI NO OWARI has posted a three-minute music video for their next 11th single song "RAIN," which is featured as the theme song for Hiromasa Yonebayashi (The Secret World of Arrietty, When Marnie Was There)'s new anime feature film Mary to Mahou no Hana/Mary and The Witch's Flower. Director Yonebayashi draws a jacket illustration of the CD single to be released on July 5.
"RAIN" MV
3rd trailer featuring the theme song
Director Yonebayashi, producer Nishimura, SEKAI NO OWARI members
映画「#メアリと魔女の花」の主題歌はSEKAI NO OWARIの「RAIN」です。米林監督、西村Pとの出会いは昨年12月。何度も話し合いを重ね、メアリのテーマを空模様になぞらえた勇気をもらえる主題歌の誕生です公開まであと1カ月#SEKAINOOWARI pic.twitter.com/jNfbFtOiuX

— スタジオポノック (@StudioPonoc) June 8, 2017
"RAIN" first press limited edition CD jacket A
First press limited edition CD jacket B
---
The film's premiere screening event was successfuly held at Toho Cinemas Roppongi Hills in Tokyo
on June 22.
お客さんの前でメアリが初めてお披露目になりました。声の出演者の皆さんが勢ぞろい
途中、映画が本当に完成するのかと皆々様から心配の声がありましたが、米林監督ならではの映画が完成しました。スタジオポノック第一回長編作品、「#メアリと魔女の花」7月8日公開#米林宏昌 #西村義明 pic.twitter.com/D4JuLsIe19

— スタジオポノック (@StudioPonoc) June 22, 2017
舞台挨拶終わりの記念撮影。今日は黒ずくめで魔女の雰囲気が出ていましたお疲れさまでした、いよいよこれからです#メアリと魔女の花 #米林宏昌 #杉咲花 #神木隆之介 #小日向文世 #満島ひかり #佐藤二朗 #遠藤憲一 #大竹しのぶ #西村義明 pic.twitter.com/kQlfF5WvtL

— スタジオポノック (@StudioPonoc) June 22, 2017
Countdown message from Hana Sugizaki (Mary)

映画公開カウントダウンメッセージメアリ役の杉咲花さん。
公開まであと7日#メアリと魔女の花 #杉咲花 pic.twitter.com/jDCiG2PWRQ

— スタジオポノック (@StudioPonoc) July 1, 2017
Message from Ryunosuke Kamiki (Peter)

映画公開カウントダウンメッセージピーター役の神木隆之介さん。
公開まであと6日#メアリと魔女の花 #神木隆之介 pic.twitter.com/PQX7a5yeGb

— スタジオポノック (@StudioPonoc) July 2, 2017
---
Main Voice Cast:
Mary: Hana Sugizaki
Peter: Ryunosuke Kamiki
Madam Mumblechook: Yuuki Amami
Red Hair Witch: Hikari Mitsushima
Charlotte: Shinobu Ohtake
Dr.Dey: Fumiyo Kohinata
Flanagan: Jiro Sato
Banks: Eri Watane
Main staff:
Screenplay: Riko Sakaguchi (The Tale of the Princess Kaguya *co-written with Takahata)
Screenplay/Director: Hiromasa Yonebayashi
Music: Muratsugu Takamatsu (Hime Chen! Otogi Chikku Aidoru Rirupuri, When Marnie Was There)
Producer: Yoshiaki Nishimura
Poster visual
Source: "Mary and The Witch's Flower" official website, Studio Ponoc Twitter
(C)2017 "Mary and The Witch's Flower" Production Committee, NTV, Hankyu Hanshin Toho Group