Two OVA episodes were released in 2015 and 2016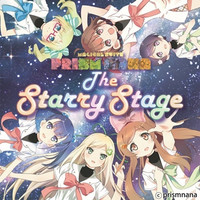 Tokyo-based film/stage play producing company Odd Entertainment has announced that a stage play based on Shaft's magical girl project Magical Suite Prism Nana is set to be performed at Sunshine Theater in Tokyo eight times from September 13 to 18 in 2017, and revealed its main cast members today. The company has been also working on the Gekidol idol anime project.
まじかるすいーとプリズム・ナナ ザ・スターリーステージ 公演情報第二弾キャスト発表です。!#プリズムナナ
⇒ https://t.co/5I2NbbXwuw pic.twitter.com/KEOcdNfJgb

— オッドエンタテインメント株式会社 (@odd_information) July 2, 2017
Trailer
Main Cast:
Mako Hiiragi/Lightning Nana: Nozomi Maeda (Amami Hibiki in Re-Kan! stage play)
Itaru Washioka/Heat: Riho Miaki (ex-AKB48/NMB48 member)
Asuka Asagi/Earth Nana: Ruka Endoh (AIKATSU☆STARS!)
Kotone Oribe/Aqua Nana: Yuno Ohhara (ex-Dream5)
Ako Sugawara: Lamu Tamagawa (ex-Idoling!!!)
Hina: Ayame Tajiri (ex-Otome Shinto)
Tachibana-san: Ayaka Yamagami (ex-DiVA)
Shion: Hinano Ayakawa (LinkStars')
Ria: Kaede Fujimoto (ex-SUPER☆GiRLS)
---
The Magical Suite Prism Nana project features the characters designed by Kantoku (The "Hentai" Prince and
the Stony Cat., Garakowa: Restore the World). It was launched in August 2012, then two pachislot machines
featuring the magical girls were released in April 2013 and February 2015. Shaft has produced two OVA episodes
(originally planned at least seven), and the upcoming stage play titled "Magical Suite Prism Nana: The Starry
Stage" is based on its second episode "Hoshizora-hen" (Starry Sky Chapter) released in April 2016. Ichidai
Matsuda (Silent Möbius, TRICKSTER the STAGE) will direct on a script by Sho Kubota.
---
Muisc videos from the OVA
"hollow girl"
"Hoshizora Harmony"
"starry melody"
Source: Odd Entertainment