The cast for Rukia Kuchiki will be announced next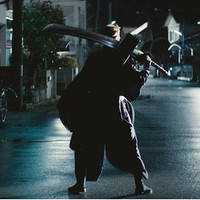 One year after the initial announcement in 2016, the official website for the upcoming live-action film adaptation of Tite Kubo's Bleach action manga today finally revealed a teaser visual introducing 24-year-old Sota Fukushi (Gentaro Kisaragi in Kamen Rider Fourze) as the protagonist Ichigo Kurosaki and a 20-second first teaser trailer showing the character with his "Zanpakuto" sword. Currently, Fukushi is the only confirmed cast for the film, and the site will reveal the cast for Rukia Kuchiki next soon.
The shooting for the Shinsuke Sato (GANTZ, I Am a Hero)-directed film was held in the suburbs of the Kanto region (including Tokyo, Gunma, Tochigi, Ibaraki, Saitama, Chiba, and Kanagawa) from mid-September to mid-November of 2016. Warner Brothers Japan plans to distribute it in Japan in the summer of 2018. The story of the film is based on the "Substitute Shinigami" arc told in the manga's 1st to 8th volumes.
Teaser trailer
Teaser visual
/
 死 神、 見 参。
\
企画発表以来、一切明かされなかったバトルアクション⚔プロジェクト、映画『BLEACH』が遂に始動
2018年夏の公開にむけて、初のビジュアル、解禁です‼ #福士蒼汰 #佐藤信介 #映画ブリーチ pic.twitter.com/1GUyLnvaPv

— 映画『BLEACH』公式 (@bleach_moviejp) July 6, 2017
\黒崎一護役は福士蒼汰さん/

主人公・黒崎一護を演じるのは、『神さまの言うとおり』『ストロボ・エッジ』など大ヒット作を連発し、日本映画界を牽引する俳優の一人・福士蒼汰さんに決定!2018年公開! #映画ブリーチ #BLEACH pic.twitter.com/Cwx0CHvA5i

— 映画『BLEACH』公式 (@bleach_moviejp) August 18, 2016
Source: "Bleach" live-action film official website, Twitter