Trilogy film project will launch with the first part's theatrical release on September 16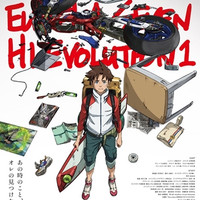 The official website for the upcoming trilogy film project Eureka Seven Hi-Evolution is today updated with a poster visual featuring the male protagonist Renton Thurston for its first part, and also posted a 90-second trailer for it. You can check the theme song "Glory Days" performed by 27-year-old singer-songwriter Hiroya Ozaki in the clip. This is his first film theme song work.
Hiroya is the eldest son of legendary Japanese singer Yutaka Ozaki, who died in 1992 when he was only 26. The trilogy film also focuses on Renton's legendary father Adrock, who became a hero in the "First Summer of Love" incident that occurred 10 years before the TV anime story.
Hi-Evolution 1, the first part of the trilogy films based on the 50-episode first TV anime series, will be released in 107 theaters across Japan on September 16, 2017. The second and third parts will follow subsequently in 2018 and 2019.
"Eureka Seven Hi-Evolution 1" 90-second full trailer
60-second trailer
Poster visual
Tagline: "About that time, about the girl..., The precious thing I found."
新ビジュアルも解禁!!-"あの時のこと、あの子のこと…オレの見つけた大切なもの" #エウレカ #eureka_HE pic.twitter.com/jxVmdGKjMX

— エウレカセブン ハイエボリューション公式 (@EUREKA_HI_EVO) July 7, 2017
---
Hiroya Ozaki
NEWS更新
『主題歌決定!レントンと共に「父の想い」継ぐ楽曲。尾崎裕哉「Glory Days」』https://t.co/emjSgTZgXc#エウレカ #eureka_HE pic.twitter.com/W9557zpguL

— エウレカセブン ハイエボリューション公式 (@EUREKA_HI_EVO) July 6, 2017
Hiroshi Watanabe also confirmed that he re-recorded his "Get it by your hands," which was used as an insert
song in the TV series, for the film project as "Get it by your hands HI-EVO MIX."
本日遂に情報解禁となりましたのでご報告を致します!HIROSHI WATANABE 挿入曲で参加。あれから12年の時を経て Get It By Your Hands HI-EVO MIX 映画の為に完全に作り直しました。https://t.co/xoXnP0xhMe pic.twitter.com/ffuiq6XGDO

— HIROSHI WATANABE (@hw_aka_kaito) July 6, 2017
Source: "Eureka Seven Hi-Evolution" official website, Twitter
©2017 BONES/Project EUREKA MOVIE