A possibility for the third film is getting higher?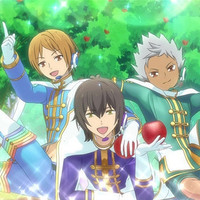 According to Mantan Web, KING OF PRISM -PRIDE the HERO-, the second film from the KING OF PRISM anime franchise, had earned 305 million yen from the 186,000 tickets sales in Japan by July 6, in 26 days since its release on June 10. The 70-minute second film crossed the 300 million yen mark 40 days faster than the first film KING OF PRISM by PrettyRhythm released in January 2016. Though it had only 56 theaters in its opening weekend, its box office performance continues to be strong and more theaters are planned to be added.
Thanks to the passionate fans' support, the theatrical run of the first film in Japan lasted for a surprising 10 months and its total box office gross finally reached 800 million yen. If the second film could achieve the same level of success, a possibility for the third one may be raised, as director Masakazu Hishida expressed his desire for another sequel in June. He said to the fans, "If the cheering screenings for this film get enough support, I think we may see some possibility. So please
continue your support."
キンプリ:新作が公開26日で興収3億円突破 https://t.co/9fWo7qqaq3 pic.twitter.com/wDoygCEWgc

— MANTANWEB (まんたんウェブ) (@mantanweb) July 7, 2017
---
"KING OF PRISM -PRIDE the HERO-" full trailer
Poster visual
Source: Mantan Web