Hiroshi Nagahama (Mushi-shi)-directed series will premiere on the NHK network on July 22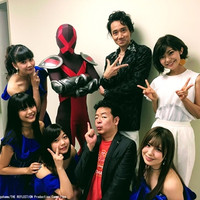 A premiere screening for the first episode of the upcoming original superhero-themed TV anime series THE REFLECTION was held for Japanese media at NHK Broadcasting Center in Tokyo on July 5. Director Hiroshi Nagahama, and six voice cast, including Shinichiro Miki (Xon) and Mariya Ise (Eleanor Evarts), appeared on the stage after the screening, then talked about their expectations for the highly-anticipated series.
First, Nagahama said, "This series may be difficult to approach in the beginning, but if you watch it a little bit further, you will come to find an unexpected side of it. So please look forward to it." Then Miki revealed, "Actually, I received a love letter from the director before the first episode's voice recording session. He told so many things about my role." Ise, who previously joined Nagahama's 2013 TV series The Flowers of Evil, also said, "I have always had a will to do my best for Nagahama's works that don't fit into any categories."
Four-member girls unit 9nine also join the series to perform the ED song "SunSunSunrise" and voice
the anime characters inspired by themselves. 24-year-old Kanae Yoshii said, "I'll do the best I can in
order to fit into the team and to play the active part." 20-year-old Hirona Murata confessed, "I was
almost choked because I never thought about being an anime character." 25-year-old Uki Satake
added, "This anime is director Nagahama's dream, my dream, and also the dream of the fans of
co-creator Stan Lee." 24-year-old Sayaka Nishiwaki talked about her impression on Nagahama as
"a great man of anime," and said that she just couldn't believe it when she received the offer.
To the question from the press how he gave instructions to his staff during creating the anime's
visuals, Nagahama answered, "In the beginning, I actually showed them American comics. But I
also asked them not to dig into its details too much. We made it as simple as possible and recreated
images with our own visions." And he explained, "In order to make them look like a printed color
comic, we didn't add any digital effects." Ise expressed her impression on the first episode, "It looked
like a papercut art using Japanese papers, so I felt Japanese taste from this anime."
Nagahama talked about the collaboration work with Stan Lee for over 10 years. "It was very worthwhile
experience for me to exchange opinions with Stan many times. I had kept saying that I was a big fan
of American comics for years, so people around me set up an opportunity to meet with Stan. I expressed
my passion directly to him, then he said, 'Shall we work together?' That's how the project was launched."
本日「ザ・リフレクション」完成披露試写会を行いました。エクスオン役三木さん、エレノア役伊瀬さんに9nineの皆さんも新衣装で登壇!さらにはエクスオンも登場し大変盛り上がりました!!アニメ放送までドキドキですが、楽しみにお待ちください。Pえ #RFLC_anime pic.twitter.com/MfyilfuLNj

— アニメ「THE REFLECTION」 (@RFLC_anime) July 5, 2017
「 ザ・リフレクション」完成披露試写会ではエクスオンが素晴らしいアクションと共に登場!皆さんにもご紹介します!アニメでのエクスオンは7/22までお楽しみに☆NHK総合テレビにて7/22より毎週土曜日午後11時〜放送です。Pえ #RFLC_anime pic.twitter.com/xSSlMG3qYW

— アニメ「THE REFLECTION」 (@RFLC_anime) July 5, 2017
---
The TV anime series is co-created by Stan Lee (Spider-Man, X-men comic creator) and Hiroshi Nagahama
(Mushi-shi anime director), and animated by Studio Deen (KonoSuba, Showa Genroku Rakugo Shinju).
The 12-episode series directed by Nagahama is scheduled to premiere on the NHK network on July 22, 2017,
and will be also available via streaming on Crunchyroll.
Key Visual
PV
Source: "THE REFLECTION" Production Committee
© Stan Lee, Hiroshi Nagahama/THE REFLECTION Production Committee