Starts tomorrow, 7/11, at 6:00am PT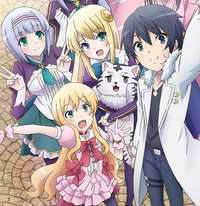 Ring! Ring! Today's procession of new title announcements continues at Crunchyroll today with word that In Another World With My Smartphone, based on the web novel series by Patora Fuyuhara and Eiji Usatsuka, is joining the summer anime lineup.
In Another World With My Smartphone starts tomorrow, 7/11, at 6:00am PT and will be available to members worldwide except Asia.
Synopsis:


After dying as a result of God's mistake, the main character finds himself in a parallel world, where he begins his second life. His only possessions are the body that God gave back to him and a smartphone that works even in this new world. As he meets all kinds of new people and forges new friendships, he ends up learning the secret to this world. He inherits the legacy of an ancient civilization and works together with the kings of some very laid-back countries on his carefree travels through this new world.
Cast
Katsumi Fukuhara as Touya Mochizuki.
Maaya Uchida as Elze Silhoueska.
Yui Fukuo as Linze Silhoueska.
Chinatsu Akasaki as Yae Kokonoe.
Marika Kōno as Yumina Urnea Belfast.
Nanami Yamashita as Sushie Urnea Ortlinde.
Sumire Uesaka as Leen.
And Yuki Kaida as Kohaku.
---
Patrick Macias is editor in chief of Crunchyroll News & Otaku USA magazine. He is currently serializing his latest writing project, PARANOIA GIRLS, on Wattpad.