Viaja a otro mundo con tu "dispositivo mágico" a partir del 11 de julio.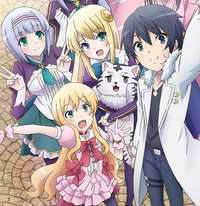 La vida moderna es como es y no nos duele admitir que vivimos con cierto nivel de adicción a nuestros dispositivos. El protagonista de esta serie es uno de ellos, tanto que decidió llevarse a otro mundo su adicción. Llega a Crunchyroll...
In Another World With My Smartphone
ESTRENO: 11 de julio a las 06:00 AM, hora del Pacífico / Ver aquí horario local
TERRITORIOS: Todo el mundo a excepción de Asia
TÍTULO JAPONÉS: Isekai wa Smartphone to Tomo ni. (異世界はスマートフォンとともに。)
Tras morir por culpa de un error cometido por el mismo Dios, este se disculpa ante Touya Mochizuki y ofrece al joven reencarnarse en otro mundo. Con solo 15 años de edad Touya acepta lo ocurrido, pero Dios le comenta que la única norma es que no puede reencarnarse en el mismo mundo del que proviene. Con ello Touya es enviado a un mundo de magia y espada, pero no sin antes una mejora de sus habilidades físicas por parte de Dios como compensación por haberlo matado por accidente y con el objeto que él mismo decidió que quería conservar en su nueva vida: su celular con conexión a Internet de su planeta natal. Ahora Touya tendrá que habituarse a su vida con un teléfono mejorado para su uso en ese mundo gracias al mismo Dios, con quien tiene contacto directo telefónico.