La 4G dans une dimension parallèle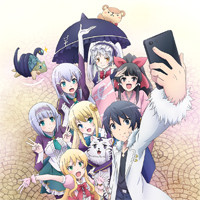 Crunchyroll annonce la diffusion en simulcast en VOSTFR de la série In Another World With My Smartphone (IseSuma – Isekai wa Smartphone to Tomo ni.). Elle débutera dès le 11 juillet (détails de la diffusion à venir). Un nouvel épisode sera ajouté chaque mardi à partir de 15 heures, à retrouver sur www.crunchyroll.com/in-another-world-with-my-smartphone.
RÉSUMÉ
Après avoir été tué accidentellement par Dieu, Tôya Mochizuki se retrouve projeté dans un monde fantastique. De sa vie précédente, il n'a gardé que son corps et son smartphone qu'il utilise pour régler des problèmes ou venir en aide aux charmantes personnes qu'il croise. Car dans ce monde, Tôya est devenu quelqu'un d'important et possède aussi certains pouvoirs…
À PROPOS D'ANOTHER WORLD WITH MY SMARTPHONE
– L'histoire est adaptée d'un light novel (série de romans) publié au Japon d'abord sur Internet dès 2013, puis en livre par Hobby Japan.
– La série est réalisée par Takeyuki Yanase (Onsen Yôsei Hakone-chan) et produite par le studio Production Reed – anciennement Ashi Productions (Rainbow Days).
FICHE TECHNIQUE
Titre original : IseSuma – Isekai wa Smartphone to Tomo ni. (異世界はスマートフォンとともに。)
Année : 2017
Format : épisodes de 23 minutes
Auteur : Patora Fuyuhara
Réalisateur : Takeyuki Yanase
Studio de production : Production Reed
TERRITOIRES
In Another World With My Smartphone sera disponible sur Crunchyroll dans le monde entier, excepté en Asie.
© Patora Fuyuhara,HOBBY JAPAN/Principality of Brunhild