Two new series set to launch soon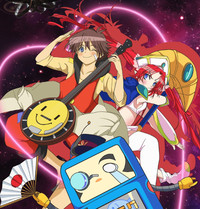 More new announcements are rip-roaring out of Crunchyroll today with word that Gamers!, a TV anime adaptation of Sekina Aoi's school comedy light novel series, and The Irresponsible Galaxy Tylor, based on the light novels by Hitoshi Yoshioka, are set to begin streaming!
The Irresponsible Galaxy Tylor starts today, 7/12, at 9:30am and will be available to members worldwide except Asia.
Synopsis:
A long time in the future from an already distant future, the United Planets has waned in significance, and the Empire has also collapsed due to internal strife. People all across the universe now lead idyllic, peaceful lives. Banjo is one of them, a boy collecting debris on the outskirts of the planetary walls, when he ends up salvaging a broken-down spaceship and finds a frozen girl inside. He soon finds the hands of evil targeting her, and the entire galaxy being whipped into a furore. And no wonder, because she is Goza the 168th, a girl who holds the key to the entire universe's fate. Overcoming many twists and turns, the two set out into space in a bid to resurrect the United Planets... but it doesn't go too well.

No need to worry, though. Let's take this nice and easy. The curtain rises on a highly irresponsible galactic comedy.
---
Meanwhiel, Gamers! launches tomorrow, Thurs/13 at 8:30AM PT and will be available to members worldwide except Asia.
Synopsis:

"Would you like to be with me... in the Gamers Club?"


Amano Keita is a perfectly mediocre loner with no particular distinguishing features other than his love for games. One day, his school's prettiest girl and Gamer Club President Tendo Karen suddenly calls out to him. That moment changes Keita's life forever, as he now finds himself in the midst of a romcom with beautiful girl gamers... or, well, that's how it usually goes. Not with him, however.
Main Voice Cast:
Keita Amano: Megumi Han (Gon Freecss in Hunter x Hunter)
Karen Tendo: Hisako Kanemoto (Ika musume in Squid Girl, Yayoi Kise/Cure Peace in Smile PreCure!)
Chiaki Hoshinomori: Manaka Iwami (Lakhesh in WorldEnd)
Aguri: Rumi Okubo (Ako Shirabe/Cure Muse in Suite PreCure, Chinatsu Yoshikawa in Yuruyuri)
Tasuku Uehara: Toshiyuki Toyonaga (Yuuri Katsuki in Yuri!!! on Ice)
The Gamers! novel series has been published from Kadokawa's Fujimi Fantasia Bunko imprint since
March 2015 and currently seven volumes are available in Japan. Its manga adaptation illustrated by
Tsubasa Takahashi has been serialized in Kadokawa's Shonen Ace magazine since last October 26,
and its first tankobon volume was publishded in March 2017.
---
Patrick Macias is editor in chief of Crunchyroll News & Otaku USA magazine. He is currently serializing his latest writing project, PARANOIA GIRLS, on Wattpad.