Both titles available today!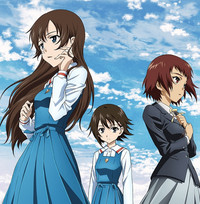 The back catalog of anime at Crunchyroll gets a +2 today courtesy of two titles from our pals at Discotek: P.A.Works' True Tears and Studio Deen's Shining Tears X Wind. Read on for full details!
Shining Tears X Wind
Launches: Today, 7/13, 4pm PST
Territories: US and Canada
When one of their classmates disappears, the student council of St. Luminous Academy moves to investigate. Souma hopes the investigation will give him more time with Kureha, the beautiful object of his crush... but he gets his wish and more when a mysterious stranger drops them both into another world! In this rapidly dying land of monsters and magic, Souma discovers that he is a Soul Blader, a legendary knight who can draw magical swords from a person's heart.
---
True Tears
Launches: Today, 7/13, 5pm PST
Territories: US and Canada
Summary:
Shinichiro is a high school student who aspires to be a picture book author. His classmate Hiromi came to live with his family after her father died. Since then, she's bottled up her feelings and has an aura of melancholy around her. Shinichiro wants to cheer her up but doesn't know how. One day, Shinichiro meets Noe perched up in a tree. Noe's got weird rumors going around about her. A tragic event occurs but Noe doesn't shed any tears. She explains that she gave away all her tears and she's searching for someone to give them back to her. Will Shinichiro swipe away Hiromi's sorrows and find a way for Noe to find her true tears?
---
Patrick Macias is editor in chief of Crunchyroll News & Otaku USA magazine. He is currently serializing his latest writing project, PARANOIA GIRLS, on Wattpad.