Otaku love story manga will have a total of 4.2 million copies in Japan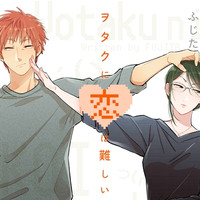 Ichijinsha's official YouTube channel has posted a four-minute PV for the upcoming fourth volume of Fujita's love story manga Wotaku ni Koi ha Muzukashii (It's Difficult to Love an Otaku) to be released on July 26, narrated by Arisa Date (as Narumi Momose) and Kento Ito (as Hirotaka Nifuji). In the video, it is also confirmed that "an important announcement" will be made on the screen of the Shinjuku Alta Vision in Tokyo at 19:00 on July 20 (JST).
The manga telling the love story between two deep otaku (Narumi is a so-called fujyoshi, while Hirotaka is a gamer) was first posted onto Pixiv, the largest Japanese online community for artists in 2014, then has been serialized on Pixiv and Ichijinsha's co-operated web comic site comic POOl since November 2015. It won the 1st place in the Kono Manga ga Sugoi! ranking in the Female Readers category in 2016. According to the press release from Ichijinsha, the series will print a total of 4.2 million copies in Japan as of the release of its fourth volume that will have one million copies in
its first print run.
What's your expectation for the announcement? An anime adaptation, a live-action, or something else?
4th volume PV
1st and 2nd volume
3rd and 4th
PR poster with the 279 messages from the bookstore clerks in the 47 prefectures in Japan
Source: Ichijinsha press release
(C)Fujita/Ichijinsha