Autora também planeja sequência do one-shot Honey ♥ Days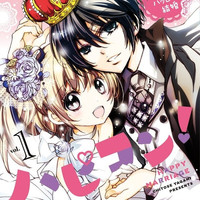 A edição de agosto da revista Ciao, da Shogakukan, publicou o último volume do mangá Hapikon! ~Ouji to Sekai Ichi Happy-na Kekkon~, de Chitose Yagami, na semana passada e anunciou que a autora vai começar uma nova série na edição de outubro, que começa a ser vendida em setembro.
Outra novidade é que o mangá one-shot Honey ♥ Days, publicado na revista Ciao Deluxe em maio também pela mangaká, está recebendo uma sequência na edição de setembro no dia 20 de julho. A história segue uma estudante do ensino médio chamada Haruka que vive com seu amigo de infância, um famoso ator chamado Kei.
OVA de Ore-sama Kingdom
Ore-sama Kingdom (também conhecido como Kings of My Love), publicado anteriormente pela Yagami, foi adaptado em dois especiais animados. A Viz Media lançou os dois volumes da obra Manga Mitaina Koishitai! (ou Fall in love like a comic!) na América do Norte entre 2007 e 2008, mas até o momento nenhuma outra editora fez o mesmo aqui no Brasil.
Chitose Yagami lançou a obra Hapikon! ~Ouji to Sekai Ichi Happy-na Kekkon~ na revista Ciao em agosto do ano passado. A mangaká foca seus títulos em shoujo, mas diversifica bem o gênero, indo de romance e vida escolar até fantasia e esportes.
FONTE: ANN
---
Gabriel F Gonzales (ou apenas yushuu) é redator de notícias na Crunchyroll.pt, amante de livros e nerd desde criança. Pronuncie corretamente Cthulhu e siga-o no Twitter.