Haoliners Animation League-animated series is now available on Crunchyroll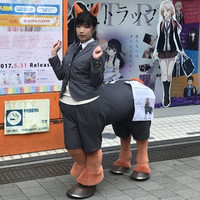 On July 7, a young PR woman for the ongoing TV anime adaptation of Kei Murayama's slice of life comedy manga series A Centaur's Life was given the task of going to stores in the Akihabara town to discuss the upcoming release of the anime's Blu-ray discs..., in her centaur form. Was she able to get there safely? Check out the result with the video report below.
The adaptation animated by Haoliners Animation League (The Silver Guardian) was premiered in Japan on July 9, and is also available to Crunchyroll members worldwide except Asia.
先日行った #セントールさんぽ の動画をアップしました! はたして、無事に秋葉原へ向かうことができるのか!?https://t.co/1u0TF45Zqn #セントール #Centaur

— アニメ「セントールの悩み」公式 (@Centaur_anime) July 14, 2017
You can find more photos of her on Twitter with a hashtag #セントールさんぽ.
【秋葉原お散歩中?!】
セントールが秋葉原をお散歩中!
ぜひ見つけて写真をツイートしてくださいね!#セントール #Centaur #セントールさんぽ pic.twitter.com/Fr3V2605vt

— アニメ「セントールの悩み」公式 (@Centaur_anime) July 7, 2017
秋葉原でのセントールさんぽ 無事終了しました!#セントールさんぽ #セントール #Centaur pic.twitter.com/1pJbImZ9uy

— アニメ「セントールの悩み」公式 (@Centaur_anime) July 7, 2017
セントールの散歩はまだまだ続いてます #セントール #Centaur #セントールさんぽ pic.twitter.com/TCewqdJ2Zx

— アニメ「セントールの悩み」公式 (@Centaur_anime) July 7, 2017
#セントールさんぽ 7日の撮影の様子です。セントールの悩みはTOKYO MX、BS11ほかにて、いよいよ明日、7月9日より放送開始です! #セントール #Centaur  https://t.co/B5RF7tAJgX pic.twitter.com/SLh7abwmXd

— アニメ「セントールの悩み」公式 (@Centaur_anime) July 8, 2017
TV anime "A Centaur's Life" key visual
via: TV anime "A Centaur's Life" official Twitter
©2017 Kei Murayama/tokuma Shoten Centaur's Life Project