Her 1st CD from Nippon Columbia will be released this fall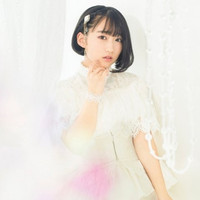 As reported, 25-year-old anime voice actress Aoi Yuki announced on her official fan club's website on April 28 that she would take a hiatus from her solo singer activity for the time being, said that she accomplished the things that she wanted to do. She is best known as Madoka Kaname in the Puella Magi Madoka Magica franchise and Hibiki Tachibana in Senki Zesshou Symphogear. She released two singles, one full album, and three mini albums from FlyingDog as a solo singer between March 2012 and December 2016.
Only three months after that, she revealed her new solo singer contract with Nippon Columbia and the company opened a teaser site for her upcoming musical activities on July 14.
She says in the statement on the teaser site, "I received so many messages from people in a short period of time since I decided to take a hiatus after saying 'I made everything I wanted to make.' Every
one of them filled my inspiration pot to the top. I wanted to repay everyone who sent me such wonderful
presents. When I hoped so, Nippon Columbia gave a helping hand to me. Until now, I only aimed to
express my imagination world, but I want to sing songs that I can share my emotion with others from now
on. I would be very grateful if you can support me again."
Nippon Columbia plans to release her new solo CD this fall.
皆様初めまして!
悠木碧さんの新たなアーティスト活動がスタート!日本コロムビアより今秋CDリリース予定です。
今後、このアカウントで随時情報をお知らせ致します。応援よろしくお願い致します! pic.twitter.com/Jxu3VwosxO

— 悠木碧【公式】 (@staff_aoi) July 14, 2017
Source: Nippon Columbia