Japanese release day is set for January 13, 2018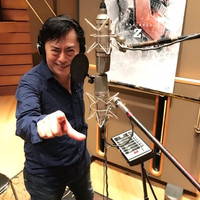 69-year-old legendary anison singer Ichiro Mizuki has posted photos from his recent recording ssesion for the theme song for the upcoming new anime film Mazinger Z on his official Twitter. Mizuki sang the OP theme song for the original TV anime series aired in Japan from 1972 to 1974. The TV anime's original soundtrack composer Chumei Watanabe's 62-year-old son Toshiyuki Watanabe works on the film instead of his 91-year-old father, and also rearranged the theme song.
"Good morning! I am so relieved that the recording for the theme song for Mazinger Z The Movie (tentative title) was ended without no troubles. Imagining the people all over the world are looking forward to the screenings, I was burning heatedly during the recording. Toshiyuki Watanabe-san's new arrangemet was exciting, so great! Japnese release day is January 13 in the next year!"
おはゼーット!#劇場版マジンガーZ(仮題)の主題歌の録音が無事に終わって心からホッとしています。世界中の人が上映を心待ちにしていると思うとレコーディングも熱く燃えました。#渡辺俊幸さんのニューアレンジも乗り乗りで 最高Z! 日本は来年1月13日に上映だZ!#マジンガーZ pic.twitter.com/hPEEdU7ZRR

— Ichiro Mizuki (@aniki_z) July 11, 2017
According to Watanabe's official blog posts, the recording for the new soundtrack music was held on July 8
and 9, then the theme song was recorded by Mizuki on July 10.
渡辺俊幸 公式ブログを更新しました。 『水木一郎氏の録音、再び』 #水木一郎 #マジンガーZhttps://t.co/dm76F5KEYA

— 渡辺俊幸 (@watanabetoshiyu) July 11, 2017
Mizuki posted his English message to the foreign fans.
Thank you for your messages. I will do my best to meet your expectations.#mazingerz #movies #ichiromizuki pic.twitter.com/axtbNql1Km

— Ichiro Mizuki (@aniki_z) July 11, 2017
---
Meanwhile, the crowdfunding project to make a three-meter tall baloon statue of Mazinger Z, titled
"Our dream, Let's Built Together, The Super Huge Mazinger Z Project," was launched on July 15, and
has collected 1,085,000 yen in five days. The project is scheduled to be ended on October 2 and its
goal is 2,500,000 yen (about 22,311 US dollars).
【僕らの夢、みんなで創ろう #超巨大マジンガーZプロジェクト !】
受付開始致しました!
ファン必見の特典目白押し!みんなの力で巨大マジンガーZ像を作りましょう#マジンガーZ #劇場版マジンガーZ https://t.co/XKeMpxOlf7

— 劇場版マジンガーZ (@mazingerzjp) July 15, 2017
---
Teaser
Source: Ichiro Mizuki official Twitter, "Mazinger Z Materialization Project" crowdfunding site
© Go Nagai/Dynamic Planning MZ Film Partners