"On that day, humanity received a grim reminder not to play its their food."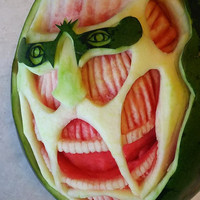 Recently a Twitter-wielding mother with a penchant for arts and crafts has been turning heads online with her watermelon carvings, and one of her most recent works features the likeness of none other than the Colossal Titan from Hajime Isayama's manga, Attack on Titan.
The fruit-based artwork is created by @bashauma_, a self-described fujoshi parent with an interest in drawing, painting, and handicrafts as well as a somewhat overzealous appreciation for Free! - Iwatobi Swim Club.
息子が進撃の巨人がいいっていうから、母ちゃん画像見ながら頑張ってみたよ!
うん、常々スイカ映えするお顔立ちだなとは思ってた。
しかし美味しそうかどうかはまた別の問題だな!#今日のスイカ pic.twitter.com/1gpGQ7G8zx

— 鳴駒でも母ちゃんはFreeが好き (@bashauma_) July 18, 2017
Translation: "My son said that Attack on Titan is good, so Mommy tried really hard while looking at an image from it! Yup, I always thought it was an appearance that would look good in watermelon. However, whether it tastes good or not is another matter! #today'swatermelon"
さっきのスイカ、うまいこと中をくりぬいて美味しく戴きましてですね。
そうするとまあ、少年としては絶対やりますよね。#今日のスイカ pic.twitter.com/4spFWGSLGt

— 鳴駒でも母ちゃんはFreeが好き (@bashauma_) July 18, 2017
Translation: "Regarding the previous watermelon, we carved it out to get to the delicious and tasty things inside. While we were doing that, well, my boy just absolutely had to do this."
Judging by the price of watermelons in Japan these days, it's good to know that the materials for the impromptu sculpture didn't go to waste.
Source: My Game News Flash
Paul Chapman is the host of The Greatest Movie EVER! Podcast and GME! Anime Fun Time.