Takahiro Miki (Hot Road, Ao Haru Ride)-directed film hits Japanese theaters October 28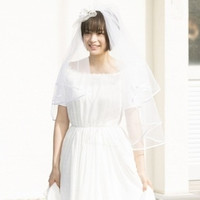 The official website for the upcoming live-action film adaptation of Kazune Kawahara's Sensei! love story manga, now officially titled "Sensei!... Suki ni Nattemo IIdesuka? (My Teacher! May I fall in love with you?)," today posted a 90-second full trailer with more scenes including the main heroine Hibiki Shimada (Suzu Hirose)'s wedding dress. The clip also introduces the film's theme song "Uta Usagi (The Singing Rabbit)" provided by four-member Japanese rock band Spitz. The Takahiro Miki (Hot Road, Ao Haru Ride)-directed film will be released in Japan on October 28, 2017.
Sensei! was Kawahara's first serialization work that ran in Shueisha's Bessatsu Margalet from 1996 to
2003, then compiled in 20 tankobon volumes. It has printed over 5.7 million copies in Japan and is now
also available in 11-volume smaller bunko edition. As the title suggests, the story centers on a love relationship
between a high school teacher Kosaku Ito who is brusque but always takes good care of his students and
one of his students, Hibiki Shimada who gives her first love in her life to him.
Message from Suzu Hirose
予告編&ポスター完成
その前に・・・響を演じる広瀬すずさんからメッセージが届きました
さらに本作に副題がついて『先生! 、、、好きになってもいいですか?』が正式タイトルになりました #先生好きになってもいいですか pic.twitter.com/7E08TuJrf9

— 映画「先生!」公式 (@sensei_movie) July 24, 2017
Bunko edition 1st and 11th volume covers
via: Eiga.com