Theatrical release with a 4K remaster, 5.1 digital audio, and an audience-immersion gimmick hits Japan in September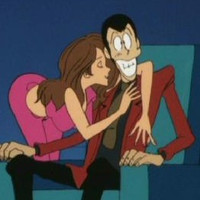 To celebrate the 50th anniversary of Monkey Punch's Lupin the 3rd manga and its numerous animated adaptations, the 1978 anime theatrical film Lupin the 3rd: The Mystery of Mamo (known in Japan as Lupin vs. The Clone) is getting a limited theatrical re-release in Japan with 4K remastered visuals, a 5.1 digital audio mix, and MX4D gimmicks that will immerse the audience in the world of the gentleman thief.
MX4D is a movie-going experience that uses gimmicks such as smoke, scents, vibration, and moving seats to give audience members a more immersive sensory experience. The Secret of Mamo MX4D re-release marks the 2nd such release: Lupin the 3rd: The Castle of Cagliostro received a MX4D re-release in Japan in January of 2017. The Secret of Mamo MX4D re-release hits Japanese theaters beginning on September 01, 2017.
Lupin III: The Mystery of Mamo is directed by Sōji Yoshikawa and features animation by TMS Entertainment (formerly Tokyo Movie Shinsha). Discotek Media releases the film on DVD in North American and describes the story as follows:
The world's most wanted master thief, Lupin the Third is dead! Despite a coroner's report, Interpol Inspector Zenigata is skeptical and discovers that Lupin is actually alive and well and stealing! But who had set up Lupin's death and why? For now, questions are set aside, as Lupin, Jigen and Goemon immediately embark to Egypt to pilfer a stone artifact from a pyramid, with Zenigata in hot pursuit.
Fujiko, lured by the promise of eternal youth and beauty by the sinister and enigmatic scientist known as Mamo, doublecrosses Lupin and steals the stone. Her betrayal causes a rift between Lupin and his cohorts, causing the trio to split up, but eventually leads Lupin to Mamo's hideaway, where he discovers the madman's dark secret and a fiendish scheme that threatens the entire planet! Now, it's up to Lupin to stop the insane Mamo - before he can complete his 10,000 year-old plans of world domination.
Source: Anime! Anime!

Paul Chapman is the host of The Greatest Movie EVER! Podcast and GME! Anime Fun Time.