Web drama "Mitsuba Arc" was viewed over 2 million times in its first three days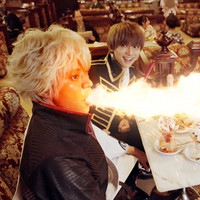 Far exceeded analyst expectations, the live-action film adaptation of Hideaki Sorachi's action comedy manga Gintama has achieved overwhelming success at the Japanese box office. It is confirmed today that the Yuichi Fukuda (Hentai Kamen)-directed film had sold an impressive 1.3 million tickets and earned 1.78 billion yen in 11 days since its release on July 14, becoming the most successful Japanese live-action film of this year so far. The film's official website posted a new CM celebrating the huge hit.
In commemoration of the success, special "support screening" events will be held in five cities in Japan (Tokyo, Osaka, Aichi, Fukuoka, Hokkaido) in August. Theatergoers will be allowed to wear silver or red wigs and glasses (full-cosplay and naked are forbidden) and to bring chemical light sticks and musical instruments. A newly-filmed special talk session footage by Shun Oguri (Gintoki Sakata), Masaki Suda (Shinpachi Shimura), Kanna Hashimoto (Kagura), and director Fukuda will
be also screened.
\5都市で応援上映決定/
限定動画も上映します
サイリウムOKなり物OK銀髪&メガネ&赤髪大歓迎(裸はNGです)
8/3〜11まで新宿ピカデリー、大阪ステーションシティシネマ、ミッドランドスクエアシネマ、T・ジョイ博多、札幌シネマフロンティアにて!#映画銀魂 pic.twitter.com/2Mc0FFy2AT

— 映画『銀魂』公式 (@gintama_film) July 26, 2017
---
Meanwhile, Avex Broadcasting & Communications has announced that the first episode of the three-episode
web drama based on the "Mitsuba Arc" of the manga, which was premiered on NTT DoCoMo's online video
streaming service dTV on the same day with the film, was viewed over 2 million times on YouTube in its first
three days. It became the most watched web drama on dTV, attracting twice more viewers than the previous
champion Attack on Titan: Beacon for Counterattack in August 2015.
"Mitsuba Arc" trailer
Souce: "Gintama" live-action film official website, Animate Times
© Hideaki Sorachi/Shueisha
© 2017 "Gintama" Production Committee