Smartphone game will start its service in early October of 2017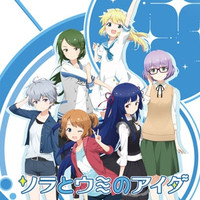 Sony Interactive Entertainment's subsidiary company ForwardWorks held a press conference for its first original multimedia project Sora to Umi no Aida (Between The Sky and The Sea) in Tokyo yesterday, July 25. The project based on an original story created by Oji Hiroi (Sakura Wars), who also serves as general director, plans to include a smartphone game, radio program, manga, stage plays, and a TV anime animated by TMS Entertainment.
The smartphone game for iPhone/iPad and Android will start its service in Japan in early October of this year, and will be also available in Taiwan, Hong Kong, and Macau. Its TV anime and stage play projects are scheduled to launch in 2018.
The main story is set in Onomichi-city, Hiroshima Prefecture, featuring six girls whose dreams are becoming Space Fisher. In the game, the player plays the part of the chief of the girls division at the
Space Fisher Development Center and supports the girls to capture the space fishes.
Main voice cast:
Haru Soramachi: Karin Takahashi (Nono Morikubo in The [email protected] Cinderella Girls)
Namino Murakami: Rika Tachibana (Sae Kobayakawa in The [email protected] Cinderella Girls)
Ruby Azumi: Honoka Inoue (Arma in In Another World With My Smartphone)
Makoto Mitsurugi: Ai Kousaka
Maiko Sakura: Momoko Suzuki
Makiko Maki: Maori Komeno
Press conference video report (via: MAiDiGi TV)
OP movie for the smartphone game
【#ソラウミ 速報】
今日、都内某所で「ソラとウミのアイダ」プロジェクト発表会が開催されたにゃ!

ゲームのストーリーやキャラクター・キャストの紹介から、コミック化やアニメ化の発表まで盛りだくさんの内容だったにゃ pic.twitter.com/s49G3HtUiQ

— 【公式】ソラとウミのアイダ@小太郎 (@soraumi_app) July 25, 2017
Manga's serialization will start in the November 2017 issue of Dengeki Daioh to be released on Spetember 27.
フォワードワークスが贈るスマートフォンゲーム『ソラとウミのアイダ』が、電撃大王にてコミカライズ決定! 作画を担当するのは、べっこうリコ先生です。11月号(9月27日発売)より連載開始予定!! #ソラウミ pic.twitter.com/ORn5BegJvO

— 月刊コミック電撃大王【公式】 (@Dengeki_Daioh) 2017年7月25日
Source: ForwardWorks press release, "Sora to Umi no Aida" official Twitter
©ForwardWorks Corporation