Atsushi Kobayashi (Prison School episode director)-directed series will premiere in October 2017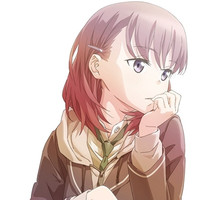 The official website for PINE JAM (Mahou Shoujo Nante Mouiidesukara)'s new original TV anime Just Because! today announced its five main voice cast, including 23-year-old Carin Isobe as the main heroine Mio Natsume. She is best known as the OP theme singer of the 12th PreCure TV series Go! Princess PreCure aired from 2015 to 2016. She made a guest voice appearance in the 40th episode of Princess PreCure along with the ED theme singer Rie Kitagawa, but Mio Natsume is her first leading character in a TV anime.
Just Because! is set to premiere on Tokyo MX, BS Fuji, and AT-X this October.
Main Voice Cast:
Eita Izumi: Aoi Ichikawa (a male student in Twin Angel Break)
-A transfer student who comes back to his hometown after 4 years and reunites his old friends.
Youto Souma: Taishi Murata (Eiichiro Maruo in Baby Steps)
-Eita's best friends in their junior high. His workplace after graduation is already decided.
Mio Natsume: Carin Isobe (Go! Princess PreCure OP theme singer)
-Eita and Youto's classmate in their junior high. She has studied hard for her entrance exams for college.
She still can't forget about her one-sided love in junior high.
Hazuki Morikawa: Yuna Yoshino (Akira Hiragi in Valkyrie Drive)
-Ex-member of her high school's orchestra club. She has already received a recommendation for a college.
Ena Komiya: Lynn (Himari Takanashi in Interviews with Monster Girls)
-Second year student who belongs to the photography club with only three members. When she tries to
get a best shot for a photo contest in order to save the club, she witnesses the accidental reunion between
Eita and Youto.
Teasr visual
10月に皆様にお会いできますように。#七夕の願い事

10月よりTOKYO MX、BSフジ、AT-Xにて放送開始!
また、原作小説は「ダヴィンチ」にて9月より連載!https://t.co/QDhumDYlwS pic.twitter.com/rxay99ZxNg

— Just Because !公式 (@JustBecause_JP) July 7, 2017
2nd PV
---
"Just Because!" Main Staff:
Director: Atsushi Kobayashi (Prison School, Tanaka-kun is Always Listless episode director)
Scripts: Hajime Kamoshida (The Pet Girl of Sakurasou light novel series)
Original Character Design: Kiseki Himuro (Sword Art Online: Progressive manga)
Anime Character Design: Hiroyuki Yoshii (Getsuyoubi no Tawawa)
Music Producer: Nagi Yanagi
Anime Production: PINE JAM (Mahou Shoujo Nante Mouiidesukara)
Source: "Just Because!" official website
© Hajime Kamoshida/Kiseki Himuro/JB Production Committee