Lerche-animated series is now available on Crunchyroll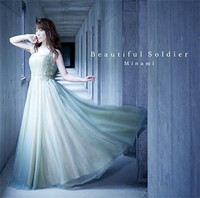 Lantis has posted a 90-second short version music video for 41-year-old anison singer Minami (former name: Minami Kuribayashi)'s upcoming 34th single song "Beautiful Soldier" to be released on August 23. The song is now used as the ED theme for the TV anime adaptation of Syohgo Kinugasa's light novel series Youkoso Jitsuryoku Shijo Shugi no Kyoshitsu he/Classroom of the Elite. The song's lyrics is written by herself, and ZAQ, who wrote/composed/arranged/performed the anime's OP theme "Caste Room," also served as composer.
The TV anime Classroom of the Elite animated by Lerche (Assassination Classroom, Scum's Wish) is now available to Crunchyroll members worldwide except Asia.
"Beautiful Soldier" short version MV
First press limited edition CD jacket
【Minami】8/23発売 TVアニメ『ようこそ実力至上主義の教室へ』ED主題歌「Beautiful Soldier」のMusic Clip Short Ver.と初回限定盤ジャケット画像を公開!!https://t.co/yX6azuTelC pic.twitter.com/1G9jcCjQjM

— ランティス (@lantis_staff) July 28, 2017
Photos from the MV shooting
MVがアップされたので、みんなで撮った写真とか、すこし載せるねぇ。
山中湖の近くの山の中にある建物で
撮っていただいたの。すーっごく 綺麗な空気だったの。マイナスイオンてかんじだったよ

は、、
山中湖近くの 山の中、、って言葉
笑える…! pic.twitter.com/E8OwMbq79n

— Minami (@minamiracle6_6) July 28, 2017
"Classroom of the Elite" key visual
Source: Lantis