The 30-minute first episode is expected to cross the 10 million mark later this month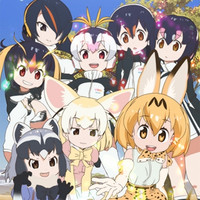 It is confirmed today on August 1 that the first episode of YAOYOROZU's full 3DCG series Kemono Friends has been legitimately viewed over 9,340,000 times on Nico Nico Douga in seven months since its posting on January 13 of this year, becoming the most watched anime episode in the history of the largest Japanese video streaming service.
The first episode "Savanna Area" crossed the one million mark by the end of its first month, and was still watched 730,000 times in the recent June. If the momentum keeps up, it is expected to attract a total of 10 million viewing numbers later this month. The previous record holder was the first episode of Is the Order a Rabbit?, which has been viewed over 9,337,000 times in 40 months since April 2014.
Top 5 most watched official anime episode on Nico Nico
(as of August 1, 2017)
1. "Kemono Friends" 1st episode (January 13, 2017) - 9,340,382 views/1,579,287 comments
2. "Is The Order a Rabbit?" 1st episode (April 16, 2014) - 9,337,081 views/1,823,367 comments
3. "Attack on Titan" 1st season 1st episode (April 10, 2013) - 3,284,425 views/202,528 comments
4. "SCHOOL-LIVE!" 1st episode (July 10, 2015) - 3,265,640 views/290,051 comments
5. "Osomatsu-san" 2nd episode (October 19, 2015) - 2,321,236 views/195,427 comments
---
While there is still no announcement for the schedule of the TV anime second season from the
franchise's offcial website and twitter, director Tatsuki posted an illustration of Serval and Kaban
with the number "2" on his Twitter last week.
#けものフレンズ pic.twitter.com/LE3zOYOoSa

— たつき/irodori (@irodori7) July 24, 2017
Source: Netlabo, Nico Nico Chart, director Tatsuki Tiwtter
(C) Kemono Friends Project A