Ryoko Kui's cooking-themed fantasy series has sold over 2 million copies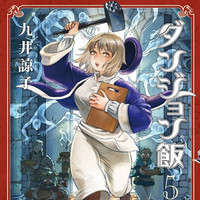 To promote the upcoming 5th tankobon volume of Ryoko Kui's fantasy manga Dungeon Meshi/Delicious Dungeon, publisher Enterbrain has posted a 80-second stop-motion animation PV introducing dwarf warrior Senshi's cooking of "Sauteed walking mushrooms with medicinal herb" on its official YouTube channel.
The manga series has been serialized in the publisher's Harta since February 2014 and its four tankobon volumes have sold over 2 million copies in Japan in total. It ranked No.1 in various yearly manga rankings/awards, including Comic Natalie's Grand Prix of 2015, Takarajimasha's "This Manga is Amazing!" award of 2015 (male category), FreeStyle's "THE BEST MANGA 2016: Read This Manga!," and "Nationwide Bookstore Employees' Recommended Comics of 2016."
The 80-second clip is produced by Tokyo-based animation studio Dwarf, best known for their works
for Domo/Domo-kun, a mascot character of Japan's public broadcaster NHK.
---
The first volume of its English edition was published by Yen Press in May 2017. The publisher
introduces the story of the first volume as below:
"When young adventurer Laios and his company are attacked and soundly thrashed by a dragon
deep in a dungeon, the party loses all its money and provisions...and a member! They're eager
to go back and save her, but there is just one problem: If they set out with no food or coin to
speak of, they're sure to starve on the way! But Laios comes up with a brilliant idea: "Let's eat
the monsters!" Slimes, basilisks, and even dragons...none are safe from the appetites of these
dungeon-crawling gourmands!"
---
"Delicious Dungeon" Japanese edition 1st and 2nd volume covers
3rd and 4th volume
5th volume
via: Comic Natalie