4K Blu-ray disc far surpasses the previous sales record of "Shin Godzilla"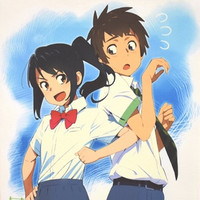 The DVD/Blu-ray discs of Makoto Shinkai's monster hit anime film Kimi no Na wa./Your Name. were finally released in four editions in Japan on July 26. According to the latest Oricon report, the total sales number of the discs in their first week was massive 638,000 units, and its total sales amount reached 4.36 billion yen. The youth sci-fi film was released in Japan on August 26, 2016, and earned 25.03 billion yen from its domestic run, becoming the second-highest grossing film of all-time in Japan.
"Your Name." DVD/Blu-ray first week sales (July 24-30)
Blu-ray standard edition - 202,000 units
Blu-ray collector's edition 4K Ultra HD - 126,000 units
Blu-ray special edition - 94,000 units
DVD standard edition - 216,000 units
The three editions of the Blu-ray dominated the top 3 positions in Oricon's weekly Blu-ray chart, this
is the first time for a Japanese anime title. And the sales number of the 4K Blu-ray disc far surpassed
the previous record of 27,000 marked by Shin Godzilla in March 2017.
Meanwhile, the standard edition DVD also took the top place in the DVD sales chart. This is the
second time in the history of the Oricon chart for an anime DVD to sell over 200,000 units in its
first week, following Evangelion: 2.22 You Can (Not) Advance that sold 283,000 units in June 2010.
Both the DVD and Blu-ray recorded the highest first week sales for an anime disc in this year.
Ryunosuke Kamiki (Taki Tachibana) and Mone Kamishiraishi (Mitsuha Miyamizu)
「君の名は。」Blu-ray&DVD本日発売!お手元で繰り返し楽しんでください!そして、新CMも解禁!神木さん、上白石さんが新たに吹き替えてくれました!https://t.co/B2IrpgpgUL https://t.co/En0v8wKWEA ビデオ担当A #君の名は。 pic.twitter.com/YO7R4jBQFr

— 映画『君の名は。』 (@kiminona_movie) 2017年7月25日
---
Standard Edition (single disc):
DVD - 3,800 yen/Blu-ray - 4,800 yen
Bonus item: mini character stickers
Special Edition (three discs with a digi pack and an outer case):
Blu-ray - 7,800 yen
Bonus item: a 100-page booklet, mini character stickers
Collectors' Edition (five discs with a newly-drawn six-side digi pack directed by Makoto Shinkai and an outer case):
Two Blu-ray discs (regular and 4K Ultra HD) - 12,000 yen
Bonus item: a 100-page booklet, mini character stickers, a reduced-size version of the voice recording script
Also, Toho Animation Store's limited edition comes with a canvas art newly drawn by character designer
Masayoshi Tanaka and a special ring binder.
【君の名は。】ついに明日、本作の魅力を余すことなく詰め込んだBD・DVDが発売!TaS限定版は各エディション共通で「田中将賀氏描き下ろしキャンバスアート」、「特製リングバインダー」がセット!数量限定なのでお早めに!!https://t.co/r50XfcYlXA #君の名は。 pic.twitter.com/3iiS7y7K5h

— TOHO animation STORE (@TOHOanimeSTORE) 2017年7月25日
Source: Oricon News