Limited edition comes with Levi's scarf and Erwin's looptie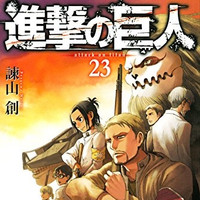 As with its previous volumes, Kodansha has posted a 50-second PV for the upcoming 23rd volume of Hajime Isayama's mega hit manga series Shingeki no Kyojin/Attack on Titan on its official YouTube channel. The latest volume is set to be released in two editions on August 9 in Japan. The 2,268 yen limited edition comes with replicas of Levi's scarf and Erwin's looptie, based on the ones used by the characters in the story.
The story in the 23rd volume directly continues to the latest chapter in the September 2017 issue of Monthly Bessatsu Shonen Magazine to be released on the same day. Watch the PV below (Warning: spoilers of the story included).
23rd volume PV
【別マガ】『進撃の巨人』第23巻 コミックス発売告知!【PV】 https://t.co/eA8SdpQ1hk @YouTubeさんから

▶︎▶︎ネタバレを少し含みますので、少しのネタバレも観たくたいという方はご覧いただかないようにお願いします◀︎◀︎

— 別冊少年マガジン【公式】 (@BETSUMAGAnews) 2017年8月2日
23rd volume cover
Source: Bessatsu Shonen Magazine official Twitter
(C) Hajime Isayama/Kodansha
(C) Hajime Isayama, Kodansha/Attck on Titan Production Committee